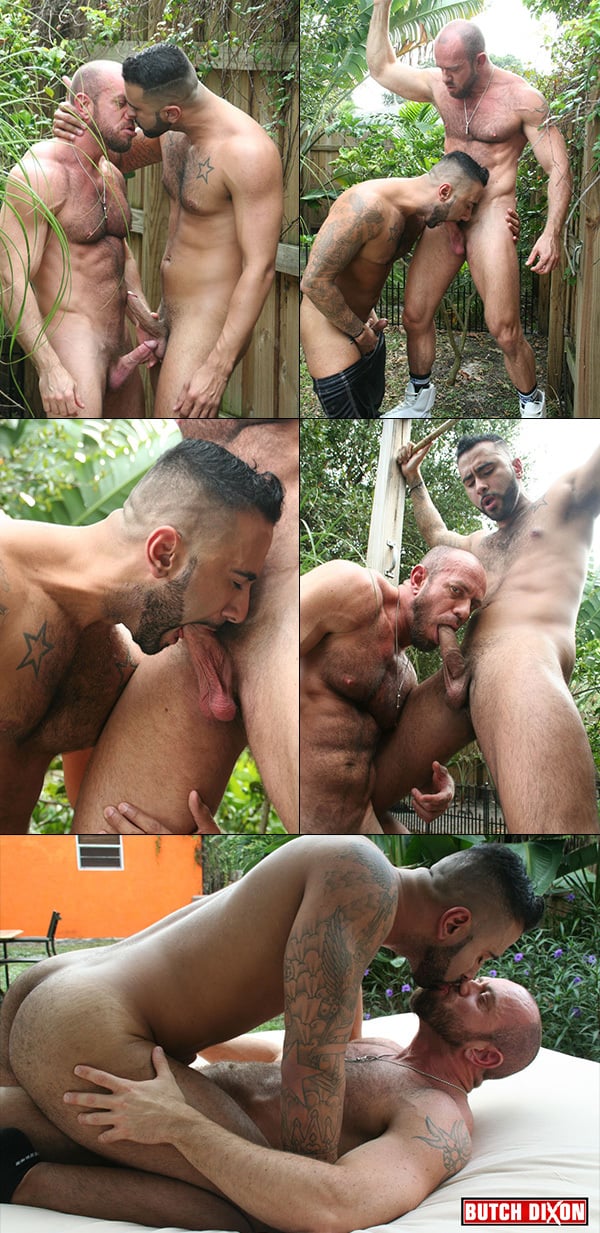 I've had a burning in my loins for Matt Stevens from the very first time I saw this hairy hunk getting his ass drilled. I was pretty sure this handsome hunk was going places and I wasn't wrong, he's popping up everywhere, and this week he's appearing in his second Butch Dixon video.
Rikk York has only just started filming gay porn, but this sexy Puerto Rican seems to be on everyone's radar, I can't keep up with all the videos he has coming out. And this week he's doing his very first appearance on Butch Dixon. And Rikk is one superb cocksucker -- a must see -- he really knows how to service a man's hard-on and he's so fucking good at it.
Matt Stevens and Rikk York are playing around on this outdoor bed. I don't know where you live, but here in Toronto it's been brutally cold for weeks -- it's -29C with the windchill this morning, forget about going to Sochi in a couple of weeks, I can't take anymore of this cold -- so this summer outdoor fuck is a welcome sight. After swapping blowjobs, Rikk climbs on top of Matt and rides his dick and these two hunks can't stop staring at each other, there was a definite connection. And if you've never seen Stevens before, he shoots a massive load of cum every time I see him, and Rikk's cock and balls and drenched in thick bursts of spunk when Matt's done with him.