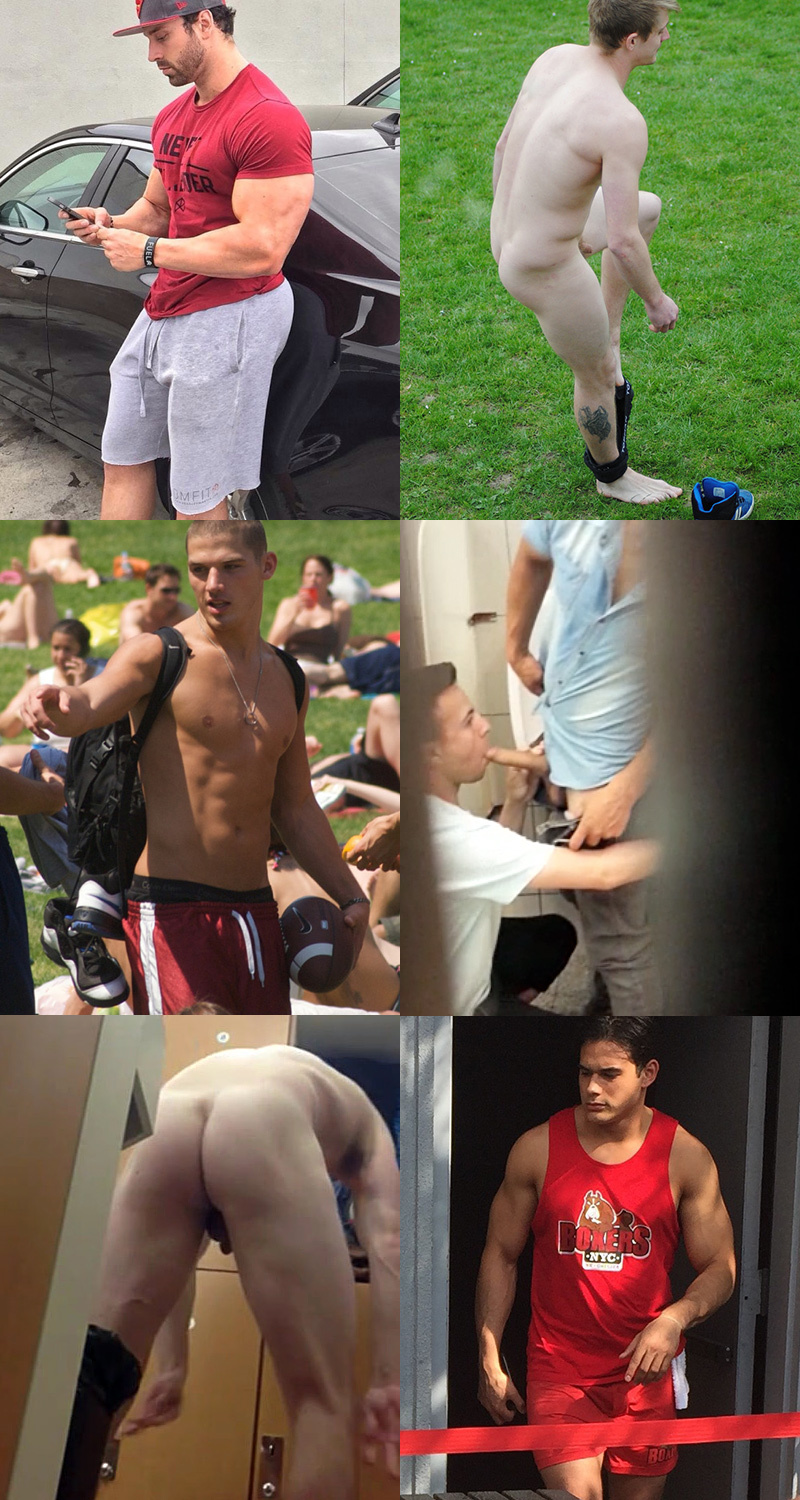 "Drop and give me 20!" is what I want to hear these guys say to me. 20 strokes. 20 deep throats. 20 assfuckings. 20 of something dammit. It's a bit tricky because they don't even know anyone's looking and wanting. Or do they?
Of fucking course they do. Deep down all they're thinking is "Worship me." Starting from afar. Then skin to skin.
The massive jock in the top left dares to look like that. I mean, wtf?! So much ass he's going to dent the car. So much bicep he's going to dent my ribs when he gives me a bear hug. I'll learn to love my dented ribs and him. But mainly I'll learn to love whoever invented the thing where guys where t-shirts that are a size too small and sweat pants cut off at the knee.
The guy stripping down in the middle of the play field is clearly responding to the person who asked to see his calf tattoo. Definitely requires being completely naked to see that calf. Definitely.
The jock with the football is flashing his underwear and hasn't even tied his shorts. Plus, I can't be sure but he may have "forgetten" to wear a shirt.
The guy getting his cock sucked in the bathroom has craned his neck to keep an eye out for intruders but he forget to see if anyone was in the stall. He's both getting worshipped and inspiring more people to look for bathroom cock.
The smooth jock bending over in the locker room is completely unaware of being photographed and yet somehow his ass and cock are demanding my attention. Funny how that works.
The server at the male version of Hooters may be focused on providing customer service at the moment, but after work, he's most likely looking for customers to service him. Or he goes to the gym for 3 hours with headphones on so as not to be bothered. Restaurant workers have to deal with a lot of crap. Yeah, he needs some TLC, the kind bearded cockpig Pete Summers gives.
[Photos via And One For Your Dreams, Dick Slips and Every Day Hotness]