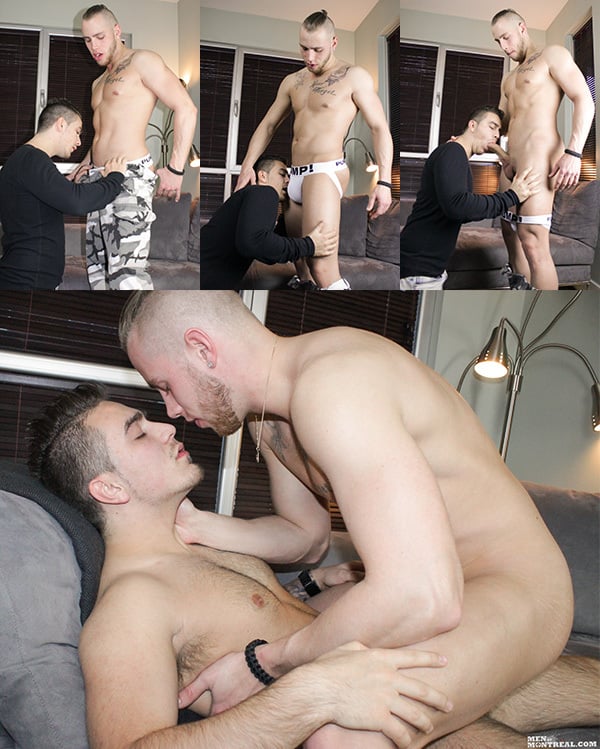 I couldn't take my eyes of Kyle Champagne in this new fuck scene over at Men of Montreal. The big news is that Pascal Aubrey is back filming for the site after months away travelling. I don't care. Yeah, Pascal is sexy, but Kyle Champagne steals this scene in my books. And I'm so turned on watching him bending over and Pascal.
Kyle isn't classically handsome, but he's got a number of characteristics that come together and create a very sexy guy. He wears an undercut (shaved on the sides and long on top) with a tiny tail, it's a style that looks dumb on a lot of men, but not Kyle. He has plump lips, beautiful for kissing, and I don't even mind the space between his front teeth. I love his face scruff. His thighs are thick and smooth and his butt is big. And he's packing a big, heavy-hanging cock that curves downwards when it gets hard.
I think Pascal did a fine job of fucking Kyle, but honestly, I'm going to have to watch this one a couple more times because I really couldn't stop looking at Kyle. No offence to Pascal, but I almost didn't notice he was in the room. And the good news, for me anyway, is that this is Kyle Champagne's tenth scene for Men of Montreal and I haven't seen any of them. I've got a full weekend of catching up to do.