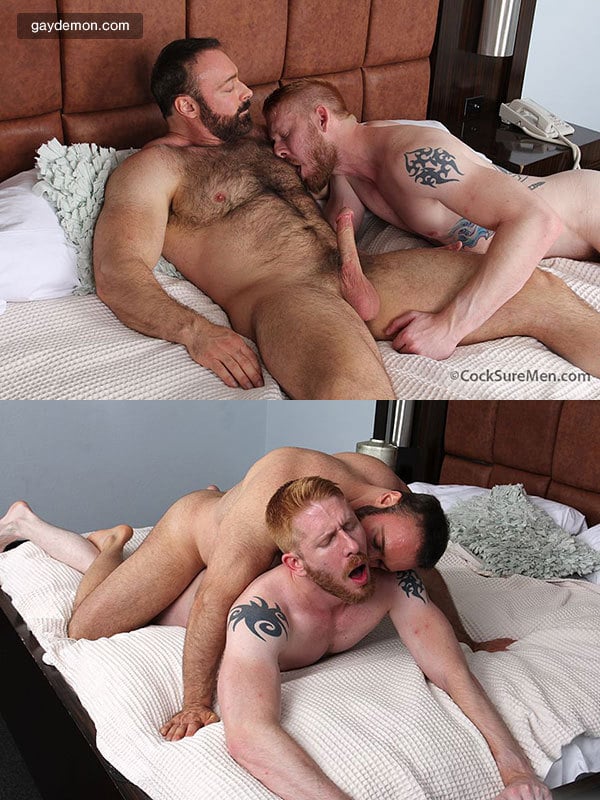 You literally cannot open your browser these days without bumping into Brad Kalvo. This hairy hunk is everywhere, which happens to be a good thing since he really turns my crank. But new meat is a welcome sight too. Ginger bottom Devan Bryant is rolling around Cocksure Men's bed and he thoroughly enjoys Kalvo's hard-on.
This is a sexy pairing largely because they're opposites in so many ways. Kalvo is beefier and covered in fur, Bryant is lean and smooth. They're both sporting beards, Kalvo's dark and Bryant's is bright orange. Both men are hung, although Devan's cock is longer and meatier. And even their skin tones are different. Devan is a typical ginger with pale skin and freckles and Brad is a slightly bronzed by the sun.
Devan kisses his way down Brad's hairy chest and belly before finally deep throating the hunk's dick. He doesn't even ask if Brad wants to fuck him, he just climbs on top and sits on his cock. (But we knew that was going to happen anyway.) Kalvo enjoys all the attention, but he likes being in control too, so he pushes the ginger stud over on his belly and pounds the hell out of his ass. Devan's a vocal bottom and lets us know he's really enjoying this screwing.