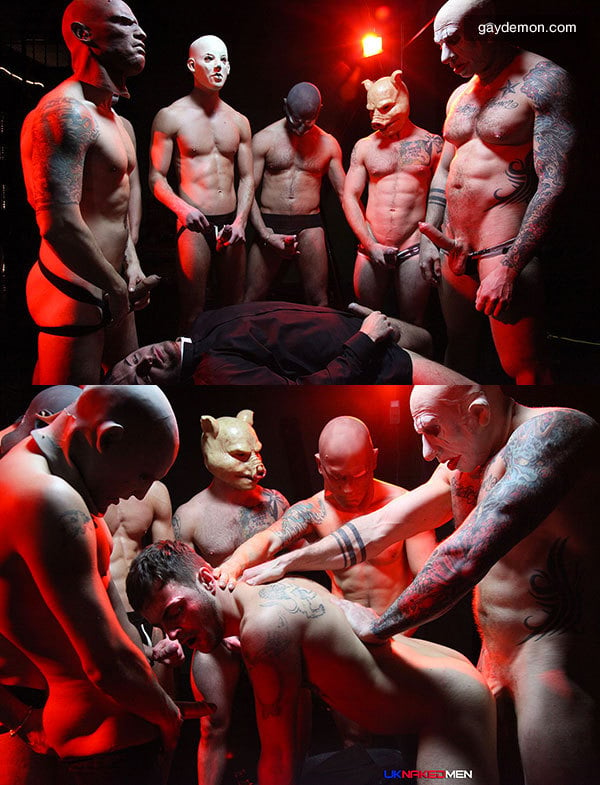 What could be hotter than a sinful priest getting his mouth and ass stuffed by five depraved, anonymous men? I've had sex with masked men before, and it was one of the hottest experiences I've ever had. The not knowing drives you into a wild frenzy of complete abandon. In UK Naked Men's Satanic Gang Bang, Riley Tess plays a fallen priest who decides that if he's going to hell then he's going with six cocks filling his mouth and ass.
Harley Everett, Matt Brookes, Valentin Alsina, Alfie Stone, Antonio Garcia, and Jonny Kingdom are the demonic hoard that pound the priest. They're naked except for the masks they wear on their heads -- some ghoulish, a couple a little zombiesque, and another wearing a demonic pig head -- but once the orgy gets into full swing, the focus is on the clergy man slobbering all over these big cocks.
Still wearing his priest's frock, Father Tess lies on his back with the gang of masked men shoving their hard dicks into his greedy mouth and ass. The horny men are pushing and shoving for their turn. They each have their moment pumping the clergy man's hole ... slopping seconds, thirds, and so on. And as the last ones bury their cocks in Riley's ass, the first start unloading their nuts all over his face, across his chest, and all over his cock and balls. One by one they shoot their loads and leave and the priest never knows fucked his aching hole.