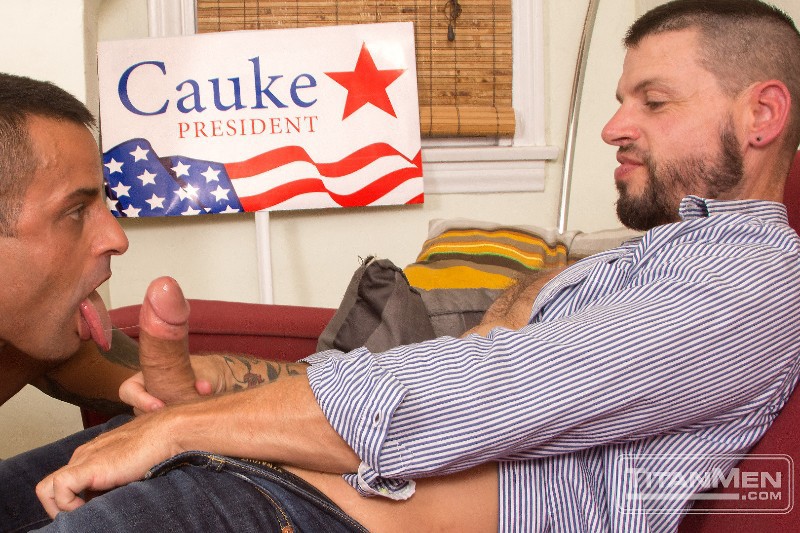 Save 25% on a Titan Men Membership - Click Here
Senator Mike Cauke can't keep his dick in his pants, so now his campaign manager, David Benjamin, is running around town trying to clean up his mess and keep the senator in the running for president. Political reporter Tex Davidson invites Benjamin over to confront him about the sex tape, but Benjamin has no idea what's really waiting for him when he walks in the door.
David Benjamin thinks that he's been summoned to deny rumours that Senator Cauke is gay. But when the reporter turns his laptop around, there's the senator getting his ass plowed. "You can't release this," Benjamin says, "you'll destroy the campaign." Davidson stands: "Get on your fucking knees and beg." Benjamin's loyal, so he kneels and pleads, "Don't do this, please." Tex pulls out his meat, looks down into Benjamin's eyes and sneers, "Suck my cock."
Tex isn't content just getting serviced. He holds David's head and deep throats him with his nine inches. He gags him over and over and poor Benjamin's shirt is completely drenched in sweat. The senator has no idea how hard his campaign manager is working for him. Benjamin bends over and takes the reporter's monster up his ass and he blows his wad all over the floor. And when Tex orders David to lick up his own cum load, he does. It's clear he'll do anything to keep this video a secret. Does it work? Head over to Titan Men and watch Cauke for President.