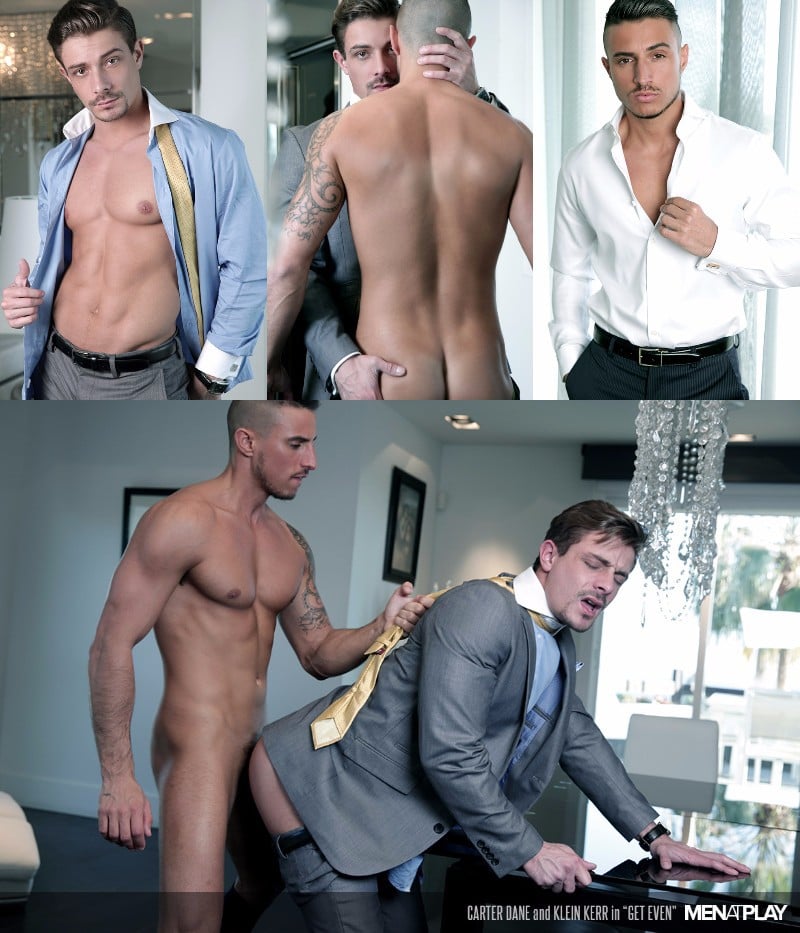 Rich executive Carter Dane arrives on the main level of his lavish home to find his manservant Klein Kerr polishing his shoes. "Are my shoes ready?" he asks while straightening his tie. He moves closer, then asks: "By the way, do you know what's happened to my underwear? They seemed to have gone missing."
Snooty McSnootFace, as I like to call him, orders his manservant to pull down his trousers. I guess he only has one pair of underwear and he really wants them back. He doesn't find his briefs, but he discovers a substantial bulge in the shorts Klein is wearing. He pulls out Kerr's hefty cock, and in a instant, master becomes servant gulping his butler's long, uncut cock.
Kerr bends Dane over the dining room table and rips a hole in the seat of his trousers, then he eats his master's hole, tongue fucking it and getting it eager for his big dick. He drives his hard-on deep inside and starts drilling. He eventually pulls down Dane's trousers so he can get a look at the butt he's fucking. Dane grips the sides of the table while his butler fucks the daylights out of him. By the way, this is Carter Dane's second scene at Men at Play, apparently his fans have been asking for an encore, so here it is.