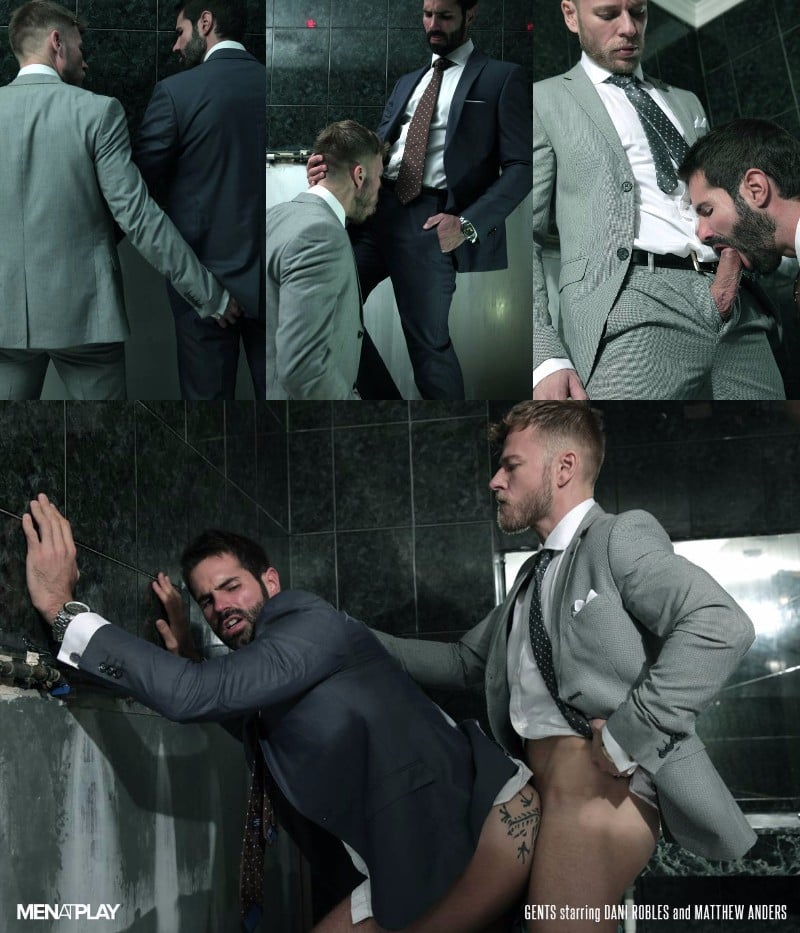 ---
Scene Pictures
Watch Matthew Anders Fucking Dani Robles in the Public Toilet
From two separate offices in downtown London, two horny business men head out for lunch. Neither one is hungry for food, though, and they end up finding each other hanging around the public toilets in a park. Dani Robles heads into the restroom first, Matthew Anders follows him. This Men at Play scene is called Gents, but seeing what these two get up to, you could hardly call them gentlemen.
European toilets are quite different than the ones in Canada and the United States. Over here we almost always see porcelain urinals, many constructed with deep crevices in which you can hide your pecker from peering eyes. They're more private than these wide open European urinals, which are really just a long trough and everyone just lines up and pees on the wall.
After following Dani into the toilet, Matt stands right beside him; and after checking out the goods, these two executives take turns sucking each other by the sink. Then Matt pushes Dani back to the urinals and the dark-haired hunk braces himself against the wall while Matt slides into his ass. Now I tend to like my bum fun without the smell of urine wafting up my nose, but I know plenty of you like that kind of thing. I'm also not fond of being discovered in a wide stance with a dick up my butt by someone nosy body wanting to take a slash. But again, I know a lot of you get excited by the notion, so you'll enjoy this one.