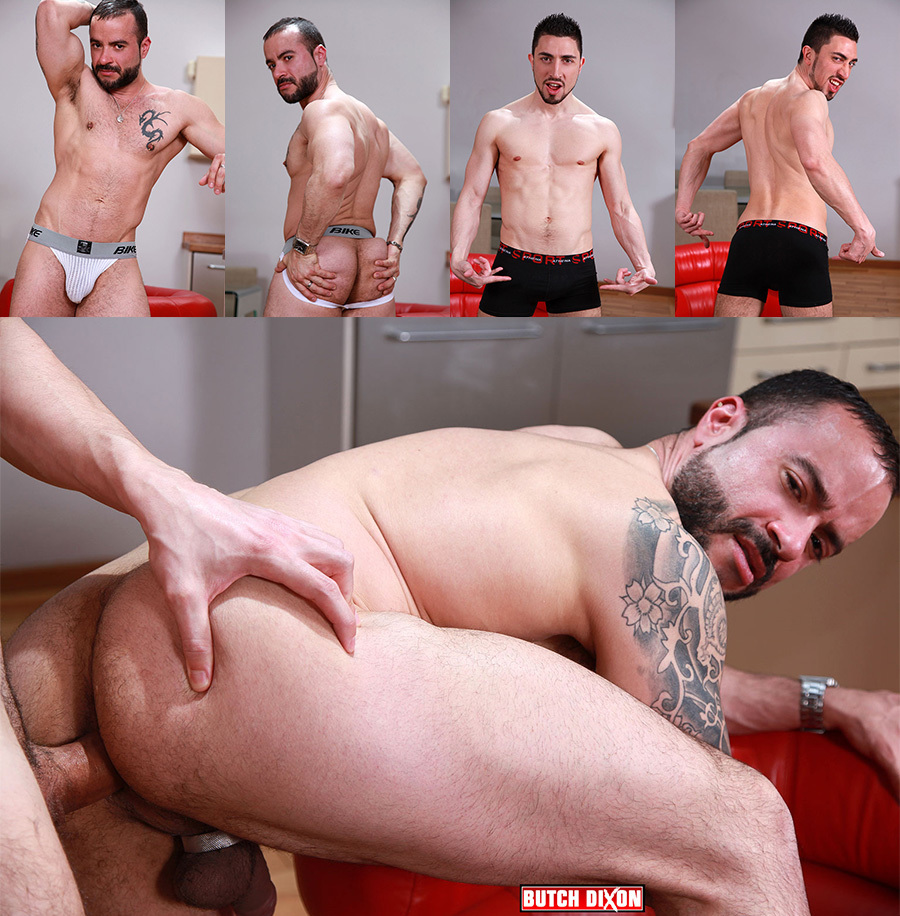 Some men fit together so easily and perfectly and it pure pleasure watching them. UK-based Gabriel Fisk has already gotten his ass fucked by Spanish top Letterio at Butch Dixon, but he's back this week making room in his bed for Italian stud Gaston Croupier. Gaston is no stranger to Butch Dixon either, a few weeks back Craig Daniel stuffed his sizable dick in the Italian's ass. But this time around, Gaston is taking care of Gabriel's ravenous hole.
Before I go any further, let me address the sparkling elephant in the room. Can a man wear too much jewelry to bed? Fisk is wearing a bracelet and rings on his fingers, as well as a necklace, a navel piercing, a Prince Albert, a cock ring, both nipples are studded, and so are his ears. He's even wearing a watch. Dude, where else do you have to be? I find it all distracting, especially at the end when he's beating off and his PA is gyrating vigorously.
Having said that, this is still a sexy scene. Gabriel and Gaston make out and slowly pull down each other's pants and gorge themselves on dick. The way Gabriel is feasting on Gaston's ass you'd think the Italian is going to get stuffed, but no, Gabriel just loves eating ass. He pulls Gaston's hard-on through his legs and slobbers up and down the thick shaft. They swap positions and Gaston slides his thick meat into Gabriel's ass doggy style. Gaston grabs Gabriel's rump in both fists and squeezes hard while he pumps. That was some hot fucking. And they screw for a while until the Italian finally unloads a massive creamy lake all over Gabriel's chest. There's so much cum! And as soon as the daddy feels Gaston's jizz hit his chest, his own cock explodes.