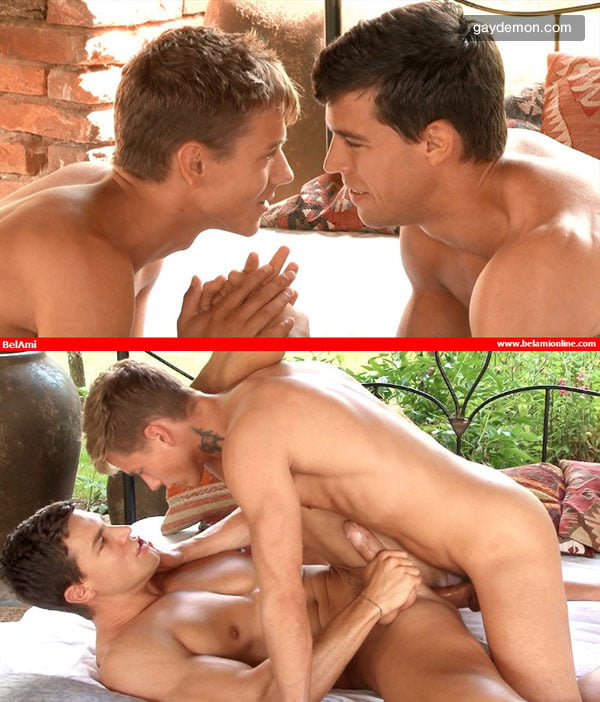 In the sexy new Series from Bel Ami Online the impossibly handsome and, until now, total top, Kris Evans is getting to feel what it's like on the bottom for a change. And in this third part, Kevin Warhol takes control and gives Kris an amazing bottoming experience - from having his cock sucked, his arsehole rimmed, and finally getting his virginal arsehole fucked - and all bareback too!
In this romantic setting there is lots of passionate kissing between co-stars Kevin Warhol and Kris Evans at the start. The kissing gives way to some hard cock licking and sucking and we see that Kris is quite the expert at oral loving. Then Kevin gets Kris on his back, legs in the air, and goes down between those luscious butt cheeks and rims his tight, rarely fucked hole with gay abandon! Kevin is obviously relishing this experience, as he knows what's gonna happen next - yep, once that hole is slick and relaxed and totally ready - he's gonna fuck it! The hither-to total top hunk, Kris Evans, is about to become his bottom-boy for the afternoon!
Kevin gets up from rimming Kris' hole and slowly inserts his raw cock firmly and deeply inside that warm cavern. He starts to move, in and out, gently at first, then slowly increasing the pace as Kris gets used to the feeling. They switch it up and change to doggie and Kevin starts to pound Kris's hole faster now, and as Kris's handsome face contorts with these never-before felt feelings, his groans of pain turn into ecstasy and grow increasingly louder until both guys reach their point of no return and Kevin drops his load all over Kris's no longer virgin arsehole!