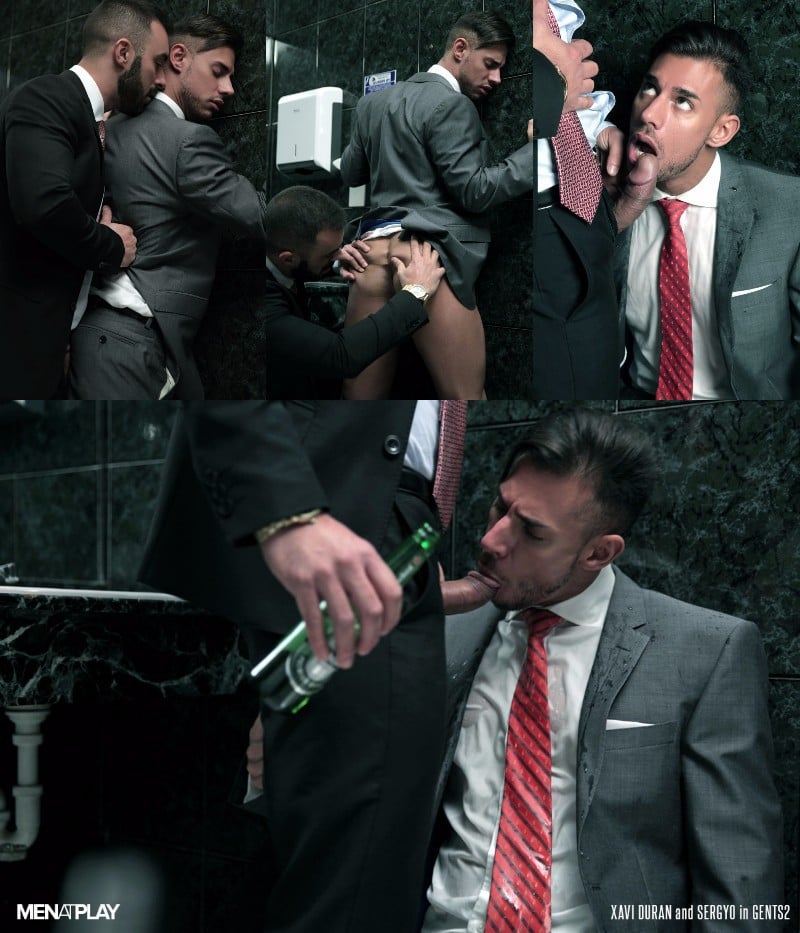 Xavi Duran heads into the men's room for a piss. When Sergyo enters he stands at the mirror checking his hair, but really, he's checking the sexy man taking a leak. So Xavi gives him something to see and turns slightly and strokes his big uncut cock at the piss through. That's all the coaxing Sergyo needs.
I've had sex in public restrooms a couple of times, but mostly I avoided the places as I didn't fancy a night or more in jail. But in one brazen moment, on the way back to university, I had a brief layover at the bus terminal. Just long enough to suck a cock in the public toilet. It didn't take me long to find a horny man, so we headed into one of the stalls and hid his legs from view with my suitcases, then I sucked him off.
But Xavi Duran and Sergyo don't bother hiding in a stall. Sergyo slides down the wall and squats while Xavi feeds him his big cock. Xavi spruces things up with a bottle of Heineken. OMG! Have you ever gotten head or a rimjob with a mouth full of beer? Honestly, try it, especially getting the rimjob, all those tiny bubbles bouncing off your butt hole are one of the most delightful things you'll ever experienced. Oh look, I've come to the end of my time here and don't have enough left to tell you how hard Xavi pounds Sergyo's ass. Oh well, you'll just have to go watch it.