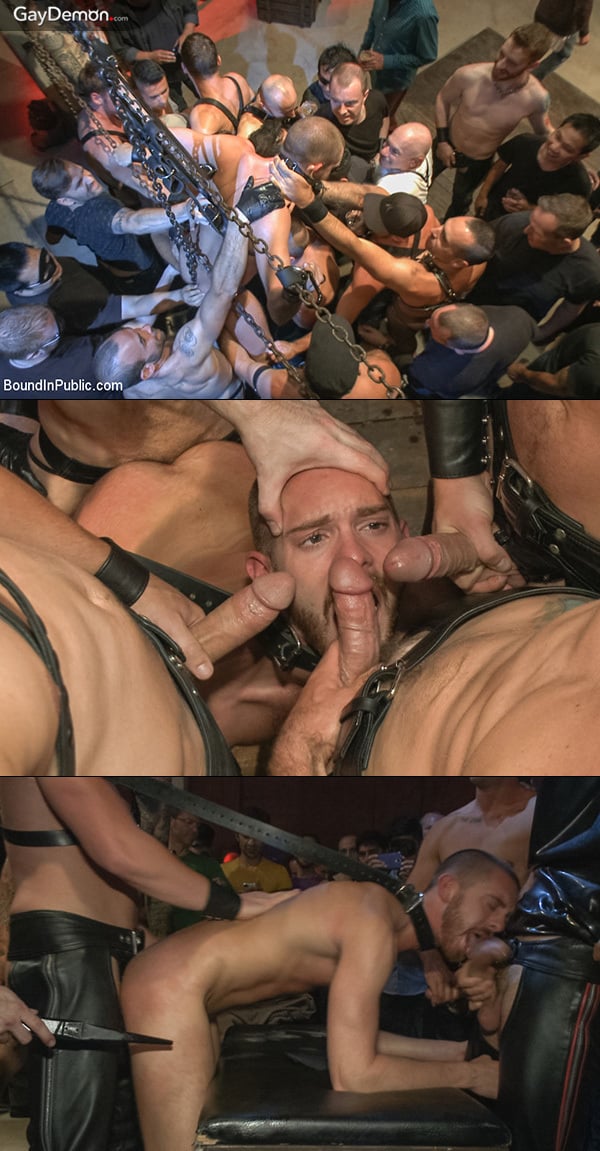 We've seen a lot of horny public gang bangs over at Bound in Public, but this week they're pulling out all the stops. They filmed their latest group fucked in front of 100 men during their Pre-Dore Alley Party. Hot southern stud Jordan Foster is a cute, bearded and furry stud and he's the main attraction.
He's blindfolded and tied up while everyone gets to touch and grope him. And with 100 men all feeling him up, he gets pretty aroused and precum soaks through his underwear. The crowd rips his clothes off and the fun begins. He's forced to crawl through the bar and beaten with a flogger. Jordan finds three dicks to suck and someone fucks him from behind while the horny crowd watches.
Bound to a net of chains, the pleasure part of Jordan's ordeal is over and the pain begins with clothespins clipped to his sensitive skin. One nasty task master flicks each one off with his riding crop and this helpless sub bellows in pain. The crowd soothes his sensitive body with their hands, then he's fucked some more. And one after another, the men line up to douse him with their cum loads. With cum dripping all over his face, Jordan crawls into the back room where the real party is just getting started.