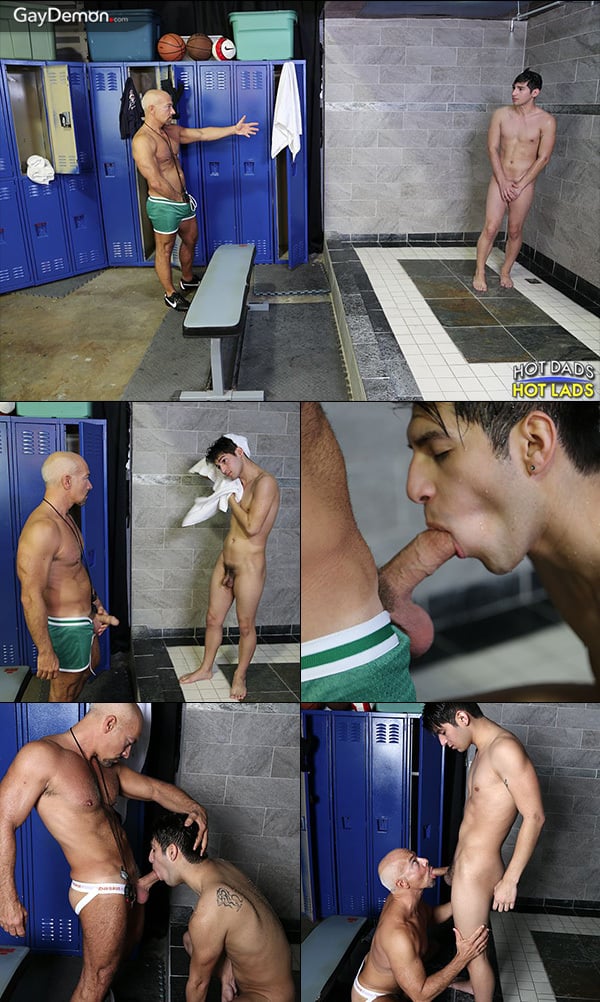 Cute athlete Ethan Travis is having some alone time in the locker room showers after a game. Well, he thinks he's alone and strokes his cock under the spray of water. But in this new video from Hot Dads Hot Lads, coach Max Dunhill is spying on Ethan, rubbing his crotch and getting turned watching his star athlete playing with his boner.
Ethan finally notices the coach and is startled at first, but the coach waves him over and offers the boy his cock. Ethan's been dreaming about doing the coach and now his fantasy is coming true, right here in the locker room.
I haven't seen Max Dunhill in a gay porn video in a while; he used to do quite a bit of filming for Butch Dixon, but it's been a few years and I'm pretty happy to see him back filming at Hot Dads Hot Lads. He's a sexy, ripped bald man and he's swinging a full-sized piece of meat between his legs.
Ethan feasts on the coach's thick cock, then Max squats and swallows Ethan's uncut dick. The coach bends his player over and eats his ass and slides his thick hard-on into the boy's tight hole. Ethan lies back on the bench and the older man fucks him hard until he squirts all over himself, then Ethan chews on the coach's nipple until he creams himself. And the two jump back into the showers for some fun clean-up.