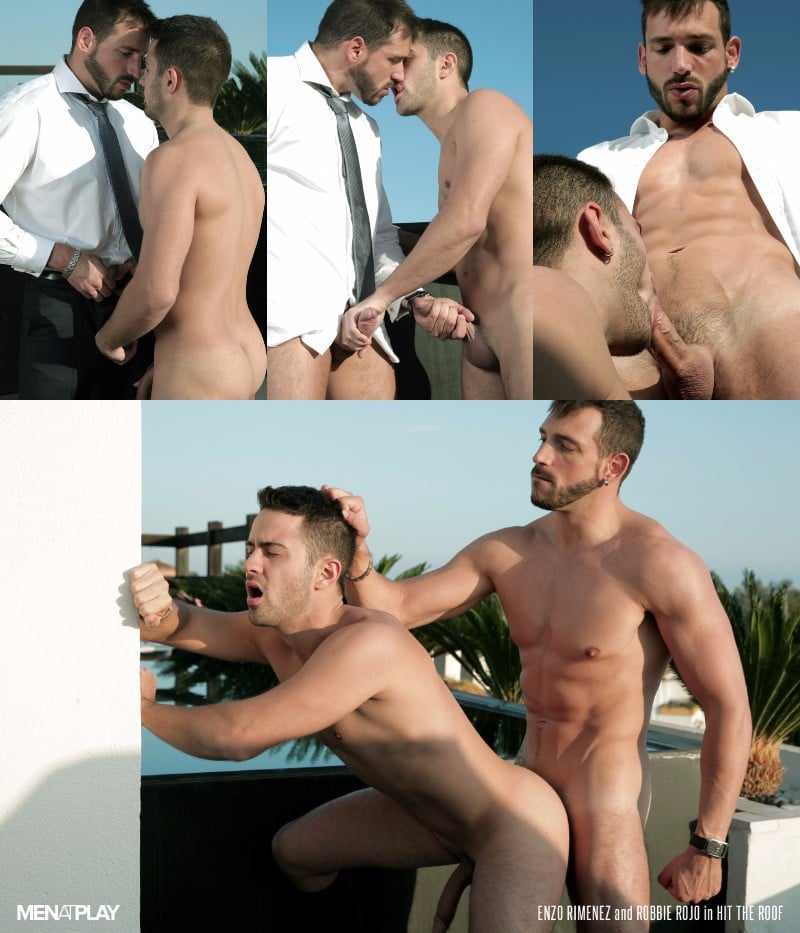 ---
Scene Pictures
It's new meat in town week at Men at Play. The site paired up Robbie Rojo with a sexy new French muscle top named Enzo Rimenez. He's a good-looking stud with a very square jaw and carved facial hair and he's packing a delicious cock with an olive-shaped head. But most important, he fucks like a train.
Hit the Roof opens with Enzo Rimenez working on an important report and waiter Robbie Rojo comes along to deliver coffee, but the tray accidentally slips and coffee spills all over Enzo and his report. This happened to me, true story: Back when I was turning thirty, I decided the corporate world wasn't for me. So I tried being a waiter. On one of my first shifts, a plate of spaghetti with meat sauce and a bunch of other stuff slid off my tray and onto my customer's lap. And you know how they say those things happen in slow motion? It's true. It felt like a whole minute before the sound of crashing dishes stopped. That was my last shift.
So, I feel Robbie's pain. And Rimenez doens't make it any easier. He yells at Robbie to jump into the pool after his report and when the waiter doesn't move fast enough, Enzo picks him up and hurls him into the pool. Soaking wet, Robbie begs forgiveness and says he'll do anything to make it up to Enzo. (Why didn't I think of that line? The restaurant was in the ground floor of a hotel so Mr. Spaghetti Pants had a room upstairs.) Enzo pulls out his stiff prick and pushes Robbie's mouth onto it. Then Enzo fucks his ass with such force that it'll have you all wishing you were Robbie. Welcome to Pornland, Enzo Rimenez, I'm looking forward to seeing more of you.