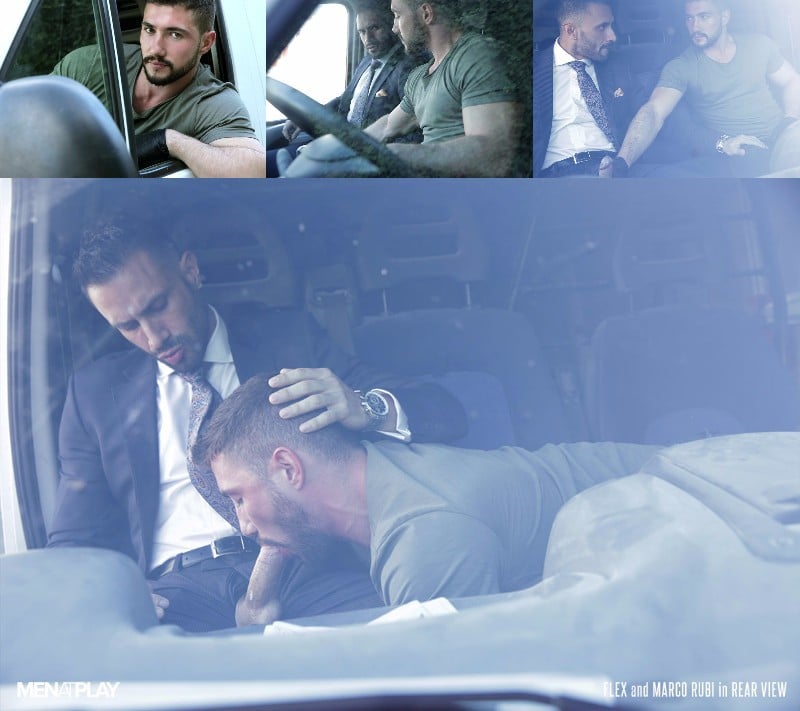 Watch the full video at Men At Play
Marco Rubi has finished a hard, sweaty day at work, but he's not ready to head home just yet. When Men at Play's Rear View opens, Rubi is driving through an area well known for cruising. Rubi spots a sexy executive leaning against his expensive car. When Rubi stops, Flex asks for a cigarette, then returns to his car and the two cruise and flirt.
Flex finally hops in the front seat of Rubi's van. The businessman is hoping to get his dick sucked, but Rubi wants a lot more. After groping Flex's crotch, Rubi unzips the executive's trousers and leans across the front seat and swallows. The labourer eager gulps the exec's hard, curved dick, then he asks Flex to pound his ass.
Rubi hops out of the truck and opens the side door and bends over. Flex eats Rubi's ass, then slides his hard-on into the workman's big, round butt. Flex holds Rubi's waist and fucks him hard, just the way Rubi likes. Eventually Rubi gets right inside the van, kneeling on all fours, and Flex stands over him and fucks him in a standing doggy style.