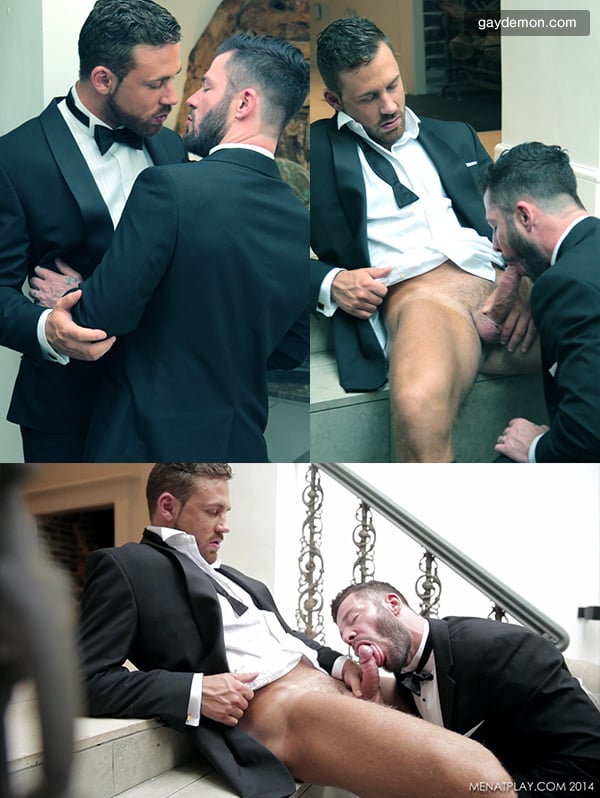 Can you imagine if your fairy godmother looked like Logan Moore? In this new release from Men at Play called Cinderfella, Danny Star is moping around because he's got nothing to wear to his graduation. In walks Logan Moore wearing a tuxedo and carrying another for Star. And he helps Star get dressed.
And since this version of Cinderella is x-rated, Moore can't help getting turned on by how sexy Star looks in his expensive duds. He leans in and gives Star a passionate kiss. Moore has a full beard and seductive blue eyes and he's a good kisser. And it's not more than a few seconds and these two hunks are peeling out of their tuxedos and Star kneel and swallows Moore's cock.
Moore feels guilty that Star is going to miss his graduation, but the Star is enjoying Moore's dick so much. How could he deprive Star? And Moore's not going to deny that his hole has an itch that could use a scratch. No, Star is quite content staying home and boning his lover's ass. Who needs to go to fancy party when you're already living with Prince Charming? So he bends Moore over and gives him the business, then sits back on the couch and enjoys feeling Moore's hungry hole bouncing on his hard-on some more.