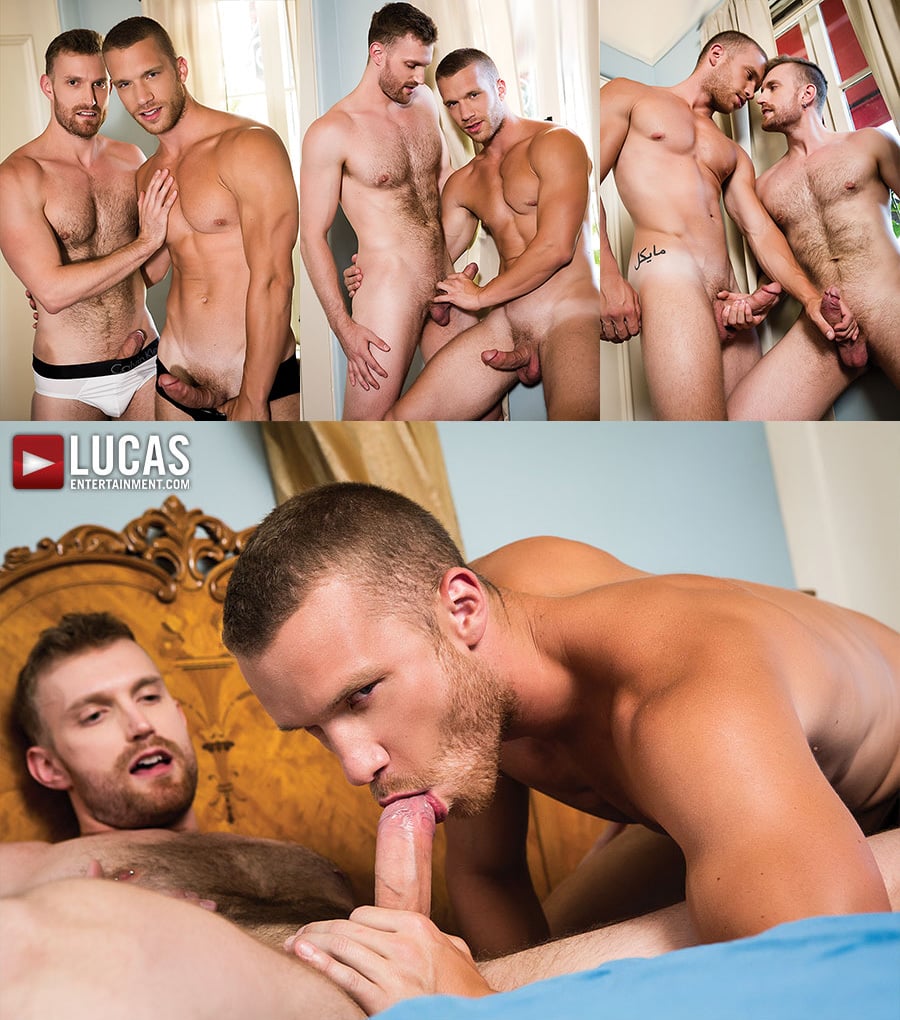 What a week it's been over at Lucas Entertainment. It started off with Spencer Whitman returning to Pornland not only in his first video in about five years, but his first bareback scene. Four days later, Whitman and his real-life lover Evan Lance fucked in a flip-flop session, and it was passionate. And three days after that, Evan Lance hops in the sack with Jake Andrews for another round of fucking. Is it just me, or is it a little hot in here?
I guess Evan Lance has a thing for feet because he starts off this scene licking Jake Andrew's feet. He holds Jake's foot and sucks a couple of his toes, then he gold fishes on Jake's arch with his lips, and finally, he licks the soles of Jake's feet. Then Evan holds Jake's feet and fucks his soles with his stiff dick. All these years and I never have done that. How about you?
After a quick kiss, Evan moves down and gulps Jake's stiff cock. Geez, someone's getting the full-service treatment. But Evan has a plan. After getting Jake good and horny with all the attention, he kneels between his legs and plunges his big uncut dick inside his buddy's ass. Evan pumps hole for a couple of minutes and the boys kiss passionately, then Jake pushes Evan face down on the mattress, mounts him, and pistons him very slowly but with deep, smashing thrusts. The guys swap back and forth a couple of times until, finally, Evan spews all over Jake's nuts. He slides back inside and continues fucking Jake for a full three minutes, then Jake unloads all over his belly. Wow! I really enjoyed these three videos, I wonder if all four guys will come together for a gang bang ... time will tell.
See more at Lucas Entertainment