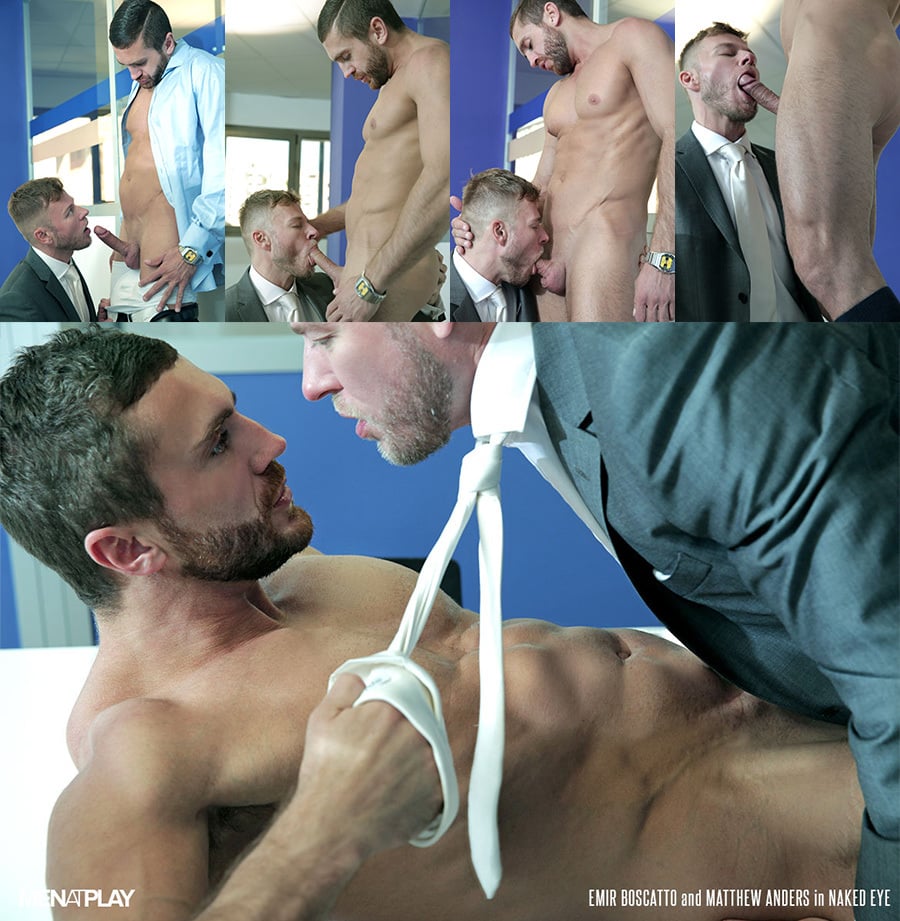 Matthew Anders has been in and out of gay porn since 1995. Back in his first hay day (he has come and gone a couple of times), he was boyish-looking with an athletic and smooth body. But these days, the Polish hunk is a sexy and bearded, and if you stare into his blue eyes, you might see a little Brad Pitt, I certainly did. He's paired up in his first Men at Play scene called Naked Eye. He finds himself alone in the office with Argentinian hunk Emir Boscatto and they eventually stop playing peek-a-boo and fuck on one of the desks.
Emir Boscatto is best known as a Big Brother Argentina contestant, but he's quickly making a name for himself in gay porn. This is his third scene with the studio -- they're sure getting their money's worth out of his exclusive contract -- and Boscatto is proving that he's not just a handsome face. He's a sensual lover who tops his partners with all the stereotypical fiery passion we'd expect from a Latin American hunk. When Boscatto's porn career is over he might want to pursue the world of tele-novella acting, he'd certainly fit right in.
Matthew Anders spots Emir Boscatto sitting at his desk. Matthew pretends to be looking at a catalogue from the other side of the book shelves and Emir teases him with gropes of his considerable crotch. The men finally come together for some passionate kissing while Matthew unbuttons Emir's shirt and licks his way up and down the hunk's muscled torso. Emir finally takes over and bends the blond hunk over the desk and lets him feel the full force of thrusting. And Anders loves being dominated.