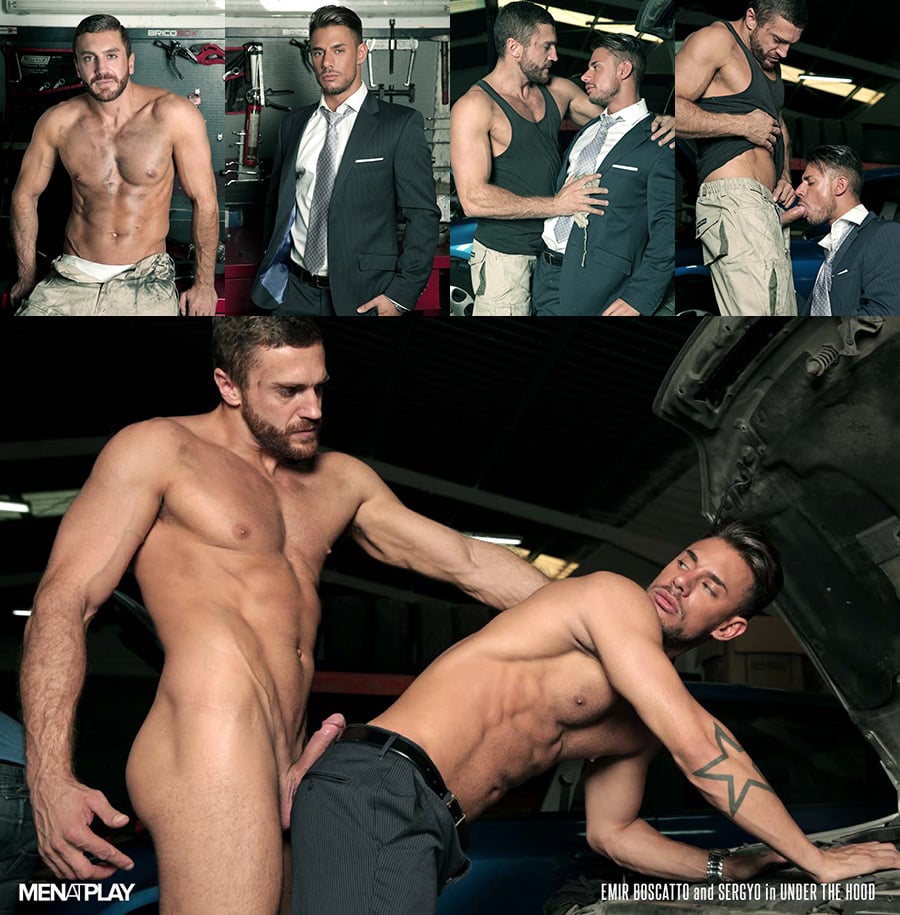 Big Brother Argentina contestant and runner up Emir Boscatto is back for his third scene at Men at Play. He's playing a mechanic who gets pissed off when he finds an inspector poking around his garage and taking pictures. Boscatto pushes handsome newcomer Sergyo to his knees and pulls out his cock. He grabs Sergyo's tie and reigns the cocksucker tightly in place and chokes him with his big tool.
I gave Men at Play a hard time when Emir Boscatto debuted on the site because they made such a big deal about the Big Brother Argentina connection. Let's face it, he was on the show four years ago and he didn't even win, so it was hardly earth-shattering news. I wondered at the time if we'd ever see Boscatto again, but this is his third scene for the site. So I happy to be wrong and he's definitely growing on me. And why wouldn't he? He's handsome and wears a sexy beard, he's got beautiful green eyes and a rock-hard body, and he's gay and a total top. Where is this garage and can I make an appointment for a tune-up?
With Sergyo on his knees, Boscatto grabs his tie and feeds it between his legs, then he reaches behind and holds it tight so this cocksucker has no choice but to gulp dick. But Sergyo doesn't look like he wants to go anywhere. Boscatto bends the inspector over the hood of a car and eats his ass, then he drives his solid cock into Sergyo's tight hole. Finally, Boscatto lies back on a bench and Sergyo rides his hard-on until he's ready to give the inspector his creamy load of spunk.