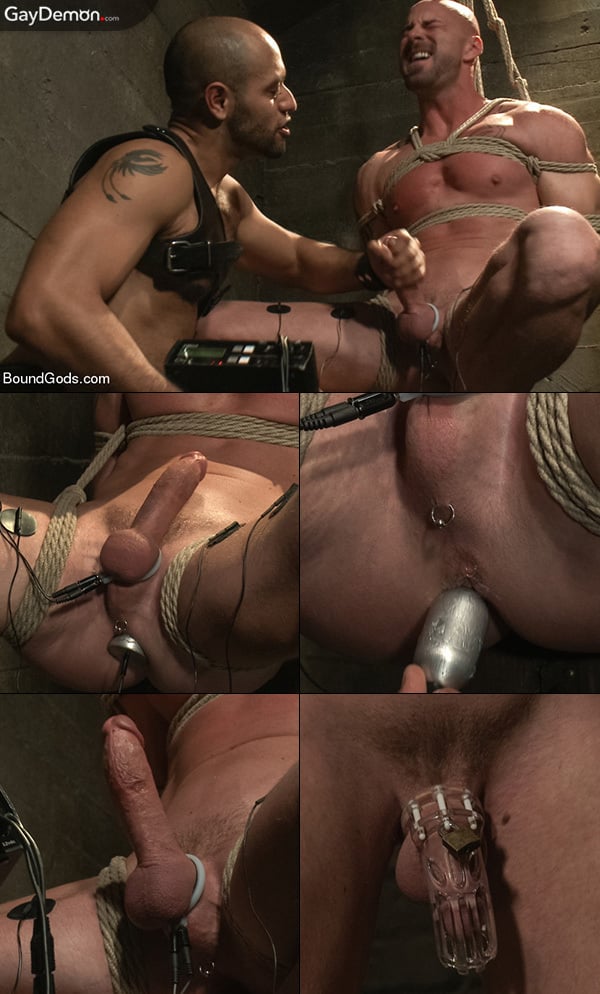 This Bound Gods scene with Leo Forte and Mitch Vaughn starts off tenderly, so unlike your typical whip and fuck video. Leo brings Mitch into his dungeon playroom and they kiss passionately against the wall. Then Mitch is bound with rope and the nastiness begins.
Mitch's hands are tied above his head and Leo sucks the muscle stud's hard, throbbing cock and gets him pretty revved up. Leo ramps things up with some electro play. I interviewed Mitch Vaughn a while ago and he said one of his fetishes is electro stimulation, so I'm not surprised that his cock responds naturally when Leo inserts an electric butt plug into his fuck hole and turns on the juice. With his butt buzzing, Mitch gets his cock edged by his master and he's pleading to bust his load already, but things are just getting started.
After an intense flogging session, Vaughn is force-fed his master's cock. Then tied to the bed with his legs in the air, the muscle slave gets his ass fucked hard. But for me the best part of this scene is the very end in the final interview reel where Leo Forte says, "I have to say that playing with you has been the highlight of my porn career, you're such a hot fucking man". And that makes this scene extra hot!