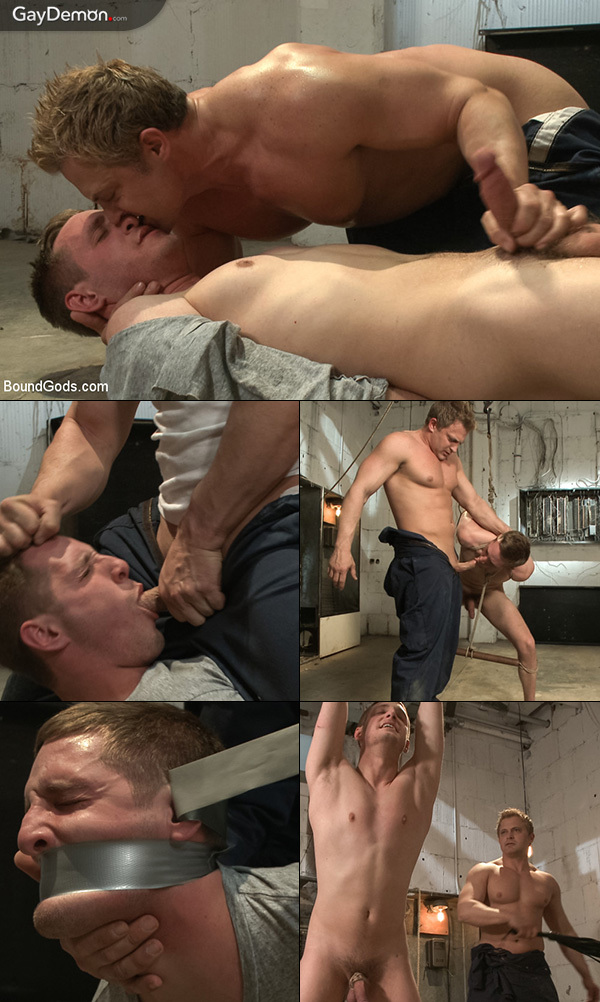 Michael Anthony is an electrician and he's on the job in a factory. He's alone in the factory as everyone's gone home for the night, everyone except Lief Kaase, an eager beaver who is pulling some overtime to impress the boss. In this scene from Bound Gods, Anthony jumps Kaase, ties him up and gags him with duct tape; then he throws the helpless guy into a cart and takes him down to the basement where no one will hear Lief screaming his fucking head off.
When this perverted electrician hauls Lief out of the dirty laundry cart, the slave struggles and tries to escape. Michael throws him to the floor, climbs on top of him, and force kisses this cute stud. Then he stuffs his stiffening dick into Lief's pretty mouth. Lief continues to squirm and tries to get away, so Michael ties his hands to the ceiling, strips off Lief's clothes, and beats him into obedience with a flogger.
Once Lief has accepted his fate, Michael cuffs him to the cot and stuffs an electrified butt plug up the bottom's ass. He juices the boy's butt hole with electricity while making Lief suck his dick, worship his biceps, and lick his dirty boots. With Lief's ass relaxed with an electrifying hum, Michael wakes up his ass with a hard and punishing fuck.