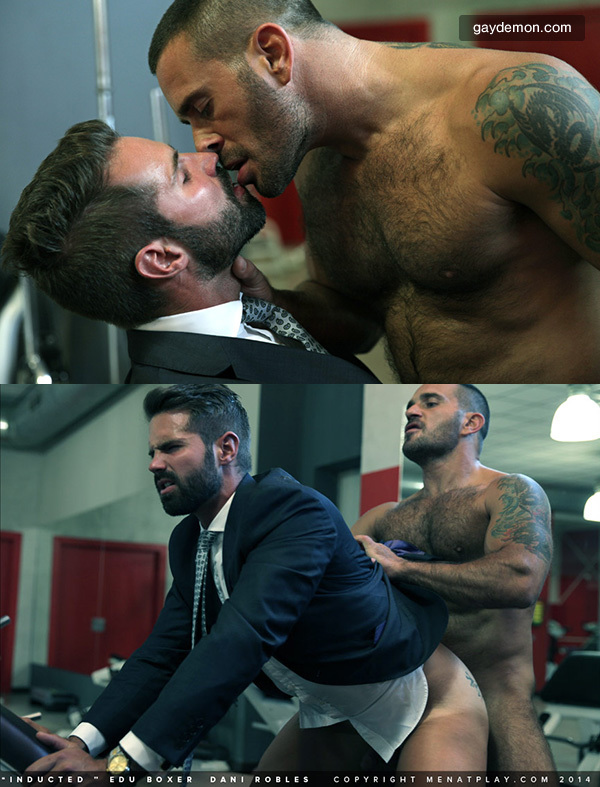 I didn't even know that Edu Boxer had retired from porn until he made his comeback a few weeks ago. He was a very sexy man and I used to enjoy watching him. But then his films stopped coming and I didn't even notice. It's not like I had a regular spot to go every week or month to look for his scenes, he filmed with a lot of different studios. So without a big retirement announcement, it's easy to lose track of a performer, even if he's a fave. The porn business is very "out of sight, out of mind."
So when Edu Boxer popped back up in his first scene in nine years, I took notice. Edu Boxer fucks Martin Mazza on a Spanish site called HardKinks. And this week, he's returning to one of his old haunts, Men at Play. Boxer helps introduce newcomer Dani Robles, who is doing his first scene with the site.
I see that after nine years away Edu Boxer still hasn't learned English, or maybe it's Dani Robles who doesn't speak English. Dani comes into the gym in his suit and tie and chats up Boxer, and then the hunk gives Robles some workout tips in Italian. I always find it sexy listening to porn hunks speaking another language, especially the dirty talk. And these two Italian hunks are on fire.
Boxer doesn't care that Robles is really fussy about getting his suit dirty. He bends the executive over a workout bench, grabs a hold of his suit's coat tails like a saddle horn and rides Robles' ass roughly. And when it's time to unload his nuts, again, Boxer isn't careful about where he lets it fly. This poor businessman's shirt and tie are completely covered in jizz. But Robles is too exhausted to care.