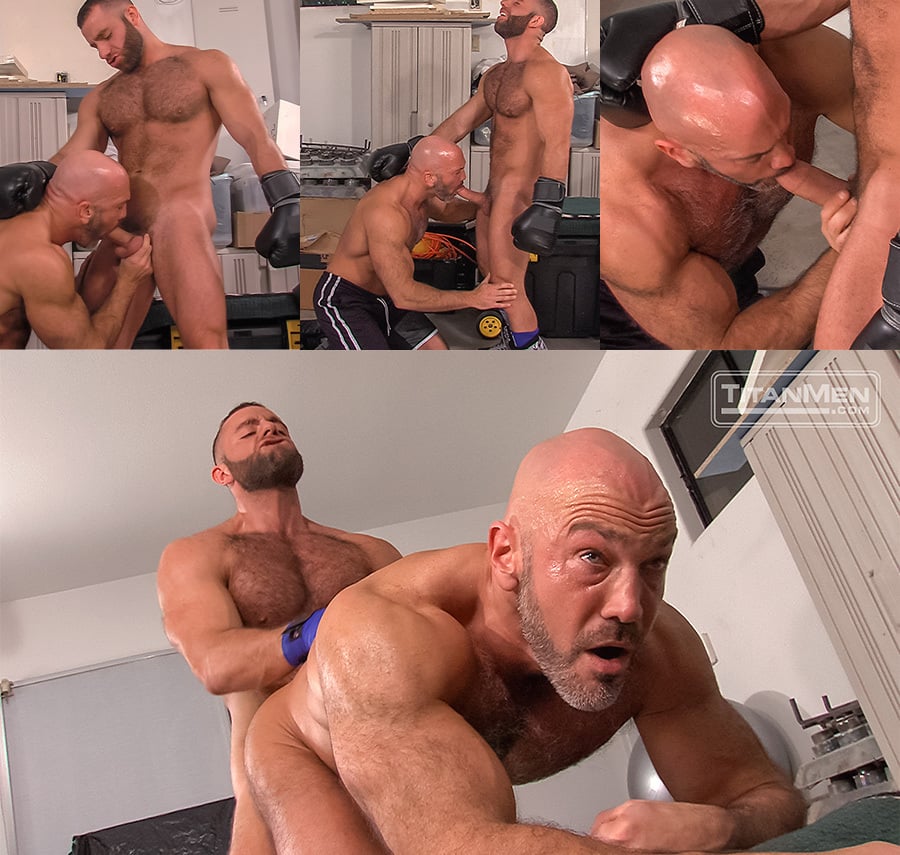 Fuck faces are hot. Take a look at Jesse Jackman struggling with Eddy CeeTee's big fat cock. There's little doubt it's a hole stretcher. The pair have been practicing their boxing moves in the garage in Titan Men's Break a Sweat, Jackman is holding the pads and CeeTee is pounding his fists into them. Their eyes are locked and Jackman encourages the boxer, and after a couple of minutes, they move closer, then with only a few inches between them they come together and kiss.
Cocks come in all shapes and sizes, but Eddy CeeTee has the kind of dick I enjoy most. It's thick. In fact, his shaft is just as thick as his cock head. A long penis is nice to look at, even nice to play with, but I've always enjoyed having my hole stretched by a delicious fatty. I like it a whole lot more than having my belly button poked out from the inside.
After blowing each other, Jesse Jackman bends over a box in the garage and Eddy CeeTee pushes his thick meat inside. Jesse's face reddens and sweat pours off his bald head as his boxing buddy pumps his ass. The men swap and Eddy lies on the crate while Jesse rides his dick, his own curved hard-on bounces to the rhythm. Then Jesse finally lies back on the box and gets his hole drilled one more time and he finally squirts ropes of jizz all over his hairy belly. You can also watch Hunter Marx and Dallas Steele, as well as Adam Champ and Shay Michaels in all three scenes of Break a Sweat.