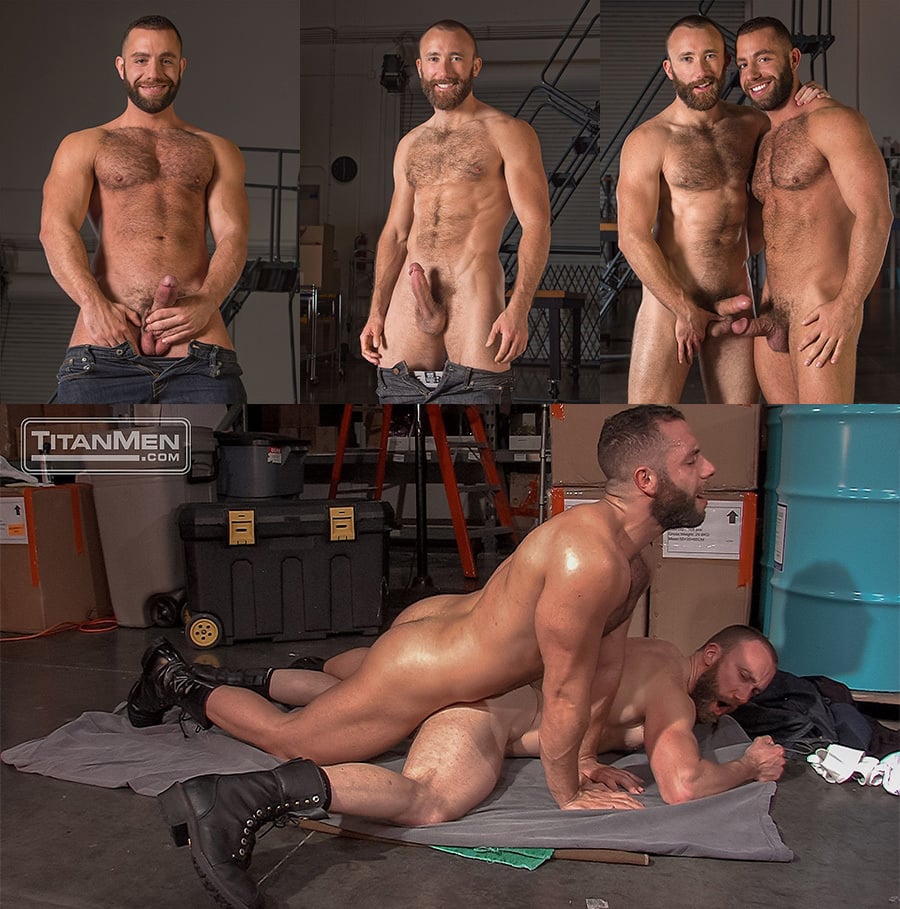 I haven't seen much of Eddy Ceetee since Titan Men announced his exclusive contract a while back. It's not that he hasn't been filming, it's just that I haven't had the chance to check him out. I did see him in his debut scene called Grease Monkey with Nick Capra back in January, but seven months in Pornland is like seven years in real time, isn't it? Eddy is back and pounding the daylights out of Nick Prescott on the warehouse floor in Blue Collar Ballers. Holy crap! This top has stamina, he makes the Energizer bunny look like a complete slacker.
Have you noticed that black combat boots have come back in fashion? Thank goodness that silly period of neon-coloured sneakers is over -- it went on far too long. And remember the DayGlo harnesses? Good grief, what a fashion fiasco they were. Anyway, back to black boots. I've been noticing them creeping into scenes here and there. You may be too young to remember, but back in the mid-90s shorts and black combat boots were the gay clone's uniform du jour. I even added leather suspenders to mine. Back then, the local army surplus stores couldn't keep army boots on the shelves. I think I still have a pair in the hall closet; I'd better dust them off because they're back in fashion. Thank goodness I didn't buy a pair of pink-trimmed Nikes, I'd have to throw them away.
Nick Prescott and Eddy Ceetee are supposed to be working in the Titan Men warehouse (all those boxes are full of dildos and butt plugs waiting for you horny lot to place an order), but when they get a case of the hornies, they drop trou and start slurping. And I don't know what's in that big barrel Nick is holding onto (maybe it's lube) but it's heavy enough to withstand a severe ass pounding from Eddy. He holds Nick's hips and fucks like he's trying to drill through a cement wall.