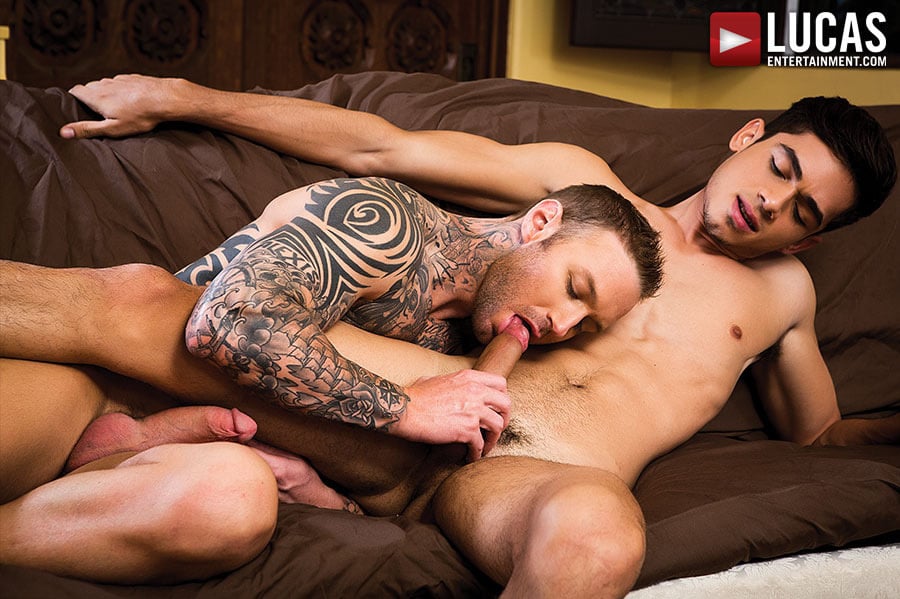 Alpha male Dylan James has filmed seven scenes for Lucas Entertainment and he's given his ass to the best -- Hugh Hunter, Michael Lachlan, Adam Killian, and Viktor Rom -- he's also doled out more than a few hard and deep fucks with his nine-inch dick. This week, he's flip flop fucking with relative newcomer Ashton Summers. You'll love seeing Dylan riding Ashton's cock, which is almost as big as his own.
I love pairings of men that highlight differences. Ashton Summers is a dark-haired Puertan Rican guy, younger and leaner, he's still got a boyish innocence to him, and his ripped and smooth body is completely clean of ink. He's packing a little more than eight inches of uncut meat, and while he's versatile he says that he really loves it when a guy pushes his head into the pillow and fucks him hard. Dylan James has dark-blond or light-brown hair and blue eyes and he's sporting a chin dimple. And while he's two inches shorter than Ashton, he's beefier and outweighs him by 20 pounds. His cock is nine inches and hangs heavily between his legs and he's cut. And then there's all the ink, his entire chest is tattooed and he's wearing sleeves of ink down both arms.
One of the differences that turns me on most is when a younger, smaller guy climbs on top a muscle stud and pounds the hell out of him. In this case though, Ashton first sits back on the sofa and Dylan sits on him and rides his dick deep. Ashton grabs two fists full of ass flesh and bounces his buddy on his hard-on. Ashton rides Dylan's niner, too, but not before he fucks the muscle stud doggy style and does some pile driving.
See more at Lucas Entertainment