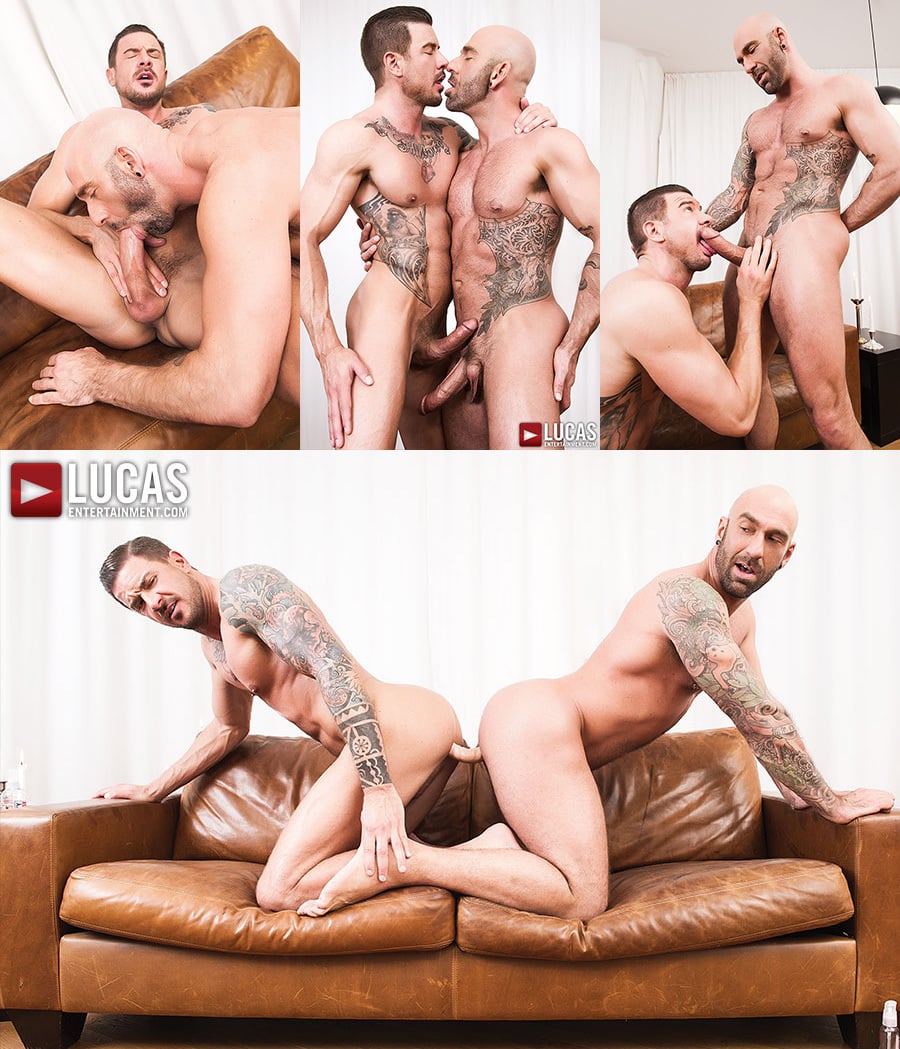 There's nothing like watching the connection between real lovers. Drew Sebastian and Dolf Dietrich started courting and fucking almost a year ago, but they haven't filmed many scenes together. Lucas Entertainment changed all that when they invited the couple to "Rocco Steele's Breeding Party," and they were two of four men who Steele fucked in the first episode. They were joined by four others, bringing the total to nine men in the second scene, which is already out. But after all the cum splooge flowed, Dolf and Drew spent some sizzling one-on-one time in the Lucas Entertainment studio, and it's a hot fucking scene.
Drew Sebastian is well known in the business as a top and he's serviced many bottoms with his beautiful niner, so I expected that we'd watch him screwing his lover. Boy, was I wrong. After some initial head swapping, Drew kneels on the sofa and hangs over the back and Dolf slides his bone in. Drew groans gratefully. He's not one of those men who is simply indulging his lover's occasion topping dalliance, he really loves Dolf's cock in his ass - he wants it bad.
After getting banged deep, Drew pushes Dolf out of his ass, and tells his lover to lie back on the couch, then he rides his cock while kissing Dolf passionately. Dolf wants back in the driver's seat and moves Drew onto his back and holds his legs wide while drilling his hole. It's a fantastic sight. Finally, Drew grabs a long, double-headed dildo and the lovers share this cock doggy style in an ass-to-ass session that will make your hole twitch. But we're only halfway through this scene, now it's Dolf's turn to get his hole filled. Man, this one's a keeper, I could have blown my wad at five different points -- this going in my spank bank for a few weeks.
See more at Lucas Entertainment