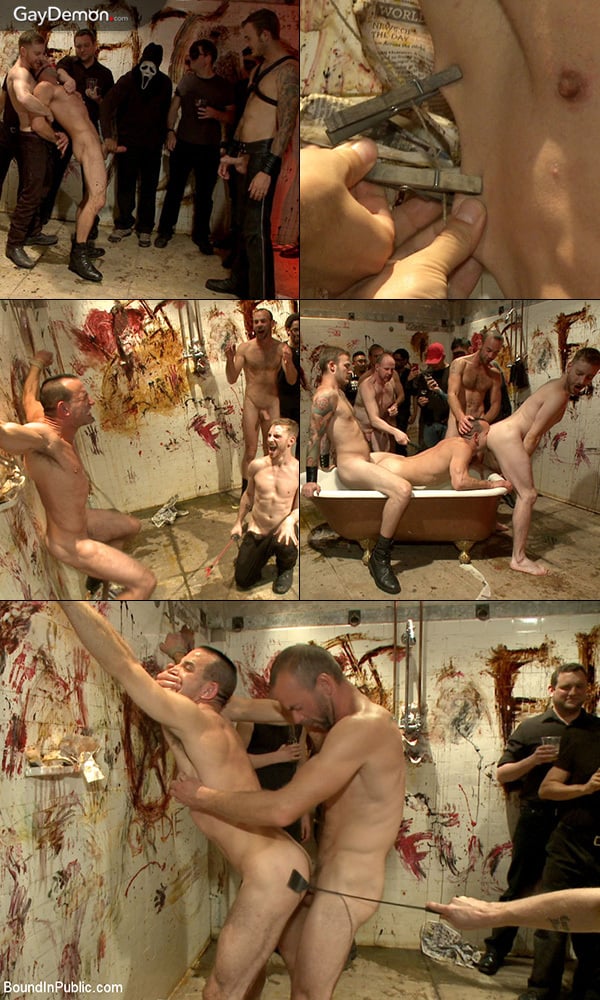 Jason Miller is a hot-looking guy and he's packing a big, thick cock. And he's the latest stud to offer himself up for a raucous and raunchy play session with a gang of nasty fuckers over at Bound in Public.
Christian Wilde drags a naked Jason Miller into the playroom. He's not leading him on a collar and leash, but he grabs the stud's big floppy cock and pulls him around the room. Tied to the wall, Jason is taunted with clothes pins, ass slaps, cock pulls, and whipped with a riding crop.
Some of the men line up against the wall and Wilde pushes Miller's face into each of their asses. Miller's throat is stuffed with a number of cocks, then he's put in a bathtub where he has to eat Sebastian Keys ass while Christian Wilde fucks him hard. And when he's done being used, Jason is ordered to lie back in the tub and the crowd douses him with piss and cum. And when it was all over Miller said, "Wow! Exhilarating and exhausting. Was that ever fun!"