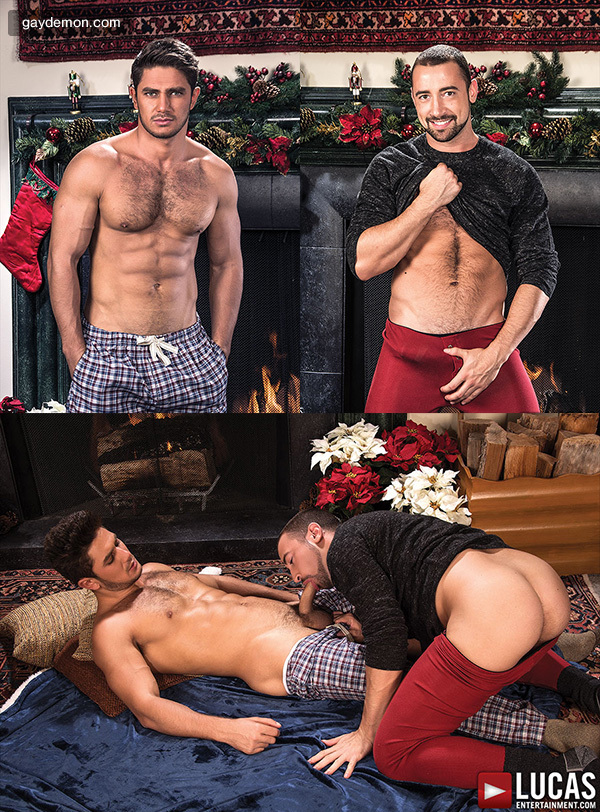 It's far to early in the month for red stockings hanging by the fireplace. Yeah, I'm a Christmas grinch ... bah humbug! But when I catch a look of Dato Foland and Donnie Dean lounging in their pajamas and long johns, I can't resist getting in the mood. Who wouldn't want to be lying in front of that fireplace with either of these two sexy men? Or both of them?
This is the first scene of Lucas Entertainment's five-scene Christmas series. It features seven friends who have left their families behind to head off to a mountain cabin to fuck their way through the holidays. Now that sounds like a perfect Christmas, doesn't it? Dato Foland and Donnie start things off in the first scene, then Nigel Banks joins them in the second. Donnie Dean fucks Ivan Gregory in the third, and Lucas Knight, Tanner Bradley, and Santiago Figueroa have a threeway, then everyone cums together for a gang bang in the finale.
This is Donnie Dean's bareback debut. I don't care really, he's one of the best cocksuckers in Pornland -- I could watch this man service dick all day. Donnie pulls Dato's boner out of his pajamas and starts licking and kissing Dato's beautiful cock. After the teasing, Donnie swallows the whole thing and it looks as though Dato's going to weep. Donnie gives Dato head for most of the movie and he does it superbly.
I was confused because the video clock is advancing towards the end and the guys haven't started fucking yet. In fact, there's only about two minutes left when Dato finally shoves his bare cock in Donnie's ass. Dato pumps a couple of times then pulls out and douses Donnie's hole with a healthy load of cum. Well, that was short, wasn't it? But what I didn't realize, and what Lucas Entertainment doesn't tell us, is that this is just the beginning of a longer scene. Nigel Banks is waiting in the wings to join these two. That scene should be out next week, so you won't have to wait long to see Dato giving Donnie one of his signature poundings.
See more at Lucas Entertainment