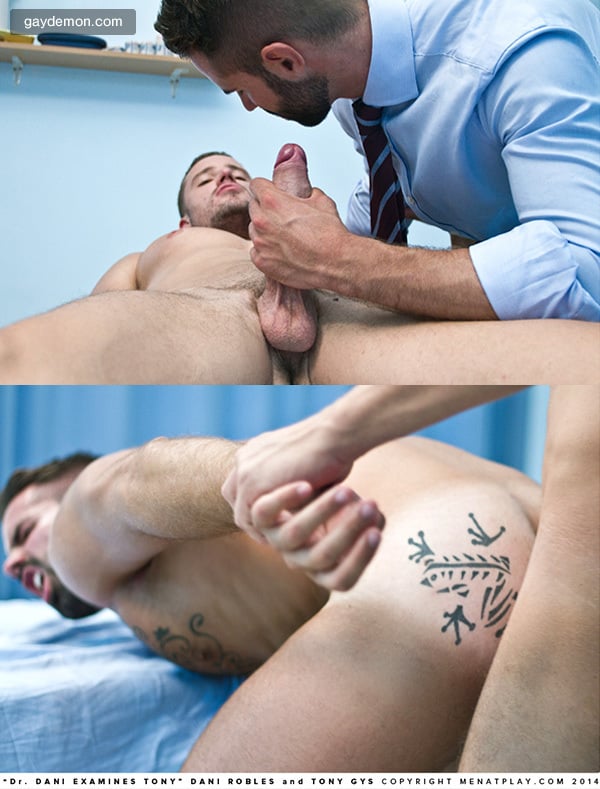 I don't know why a man complaining about a sore shoulder has to take all his clothes off for the doctor. But when sexy Spanish Doctor Dani wants to see you naked, are you going to refuse? Have you seen this stud suck dick? Trust me, you wouldn't balk. And if you need a refresher, check out what he did to his last patient: The Doctor Will Suck You Now.
When Men at Play's Dr. Dani starts his examine, touching and pressing Tony Gys' shoulders and chest and slowly working his way down to the towel lying across his crotch. Since when did modestly become en vogue in the doctor's exam room? By the time Robles gets down there, he notices Tony's boner bulging under the towel. Gys is surprised when the doctor grabs his cock, but he doesn't protest. Can doctors bill extra for happy ending examinations?
The patient lies back and enjoys his doctor's mouth. And incidentally, Dr. Dani has to open very wide because Tony has a big, thick cock. But he's had plenty of practice, so swallowing Tony's meat isn't a chore. Then the doctor lies back on the exam table so he can feel that stiff prick in his ass. And miraculously, when Dr. Dani hoists his leg onto Tony's wounded shoulder, it's been healed! And the patient shows his gratitude and drills his doctor's ass.