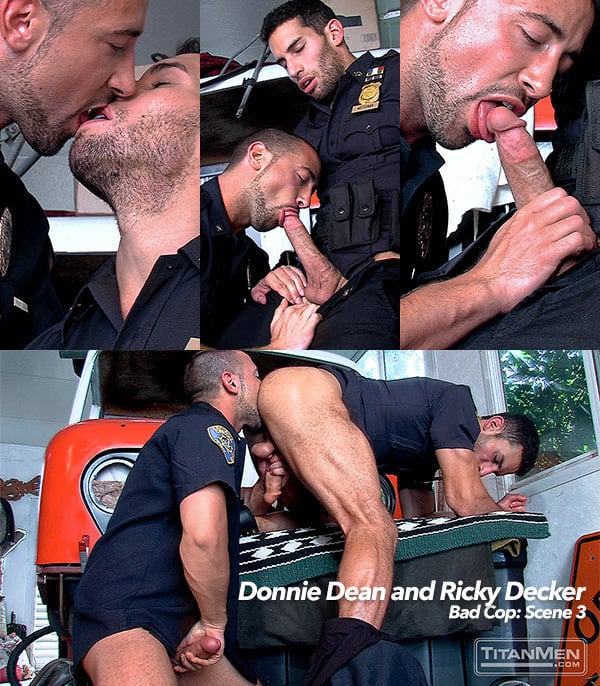 Uniformed cop Ricky Decker sits bare assed on a storage box in front of a truck. With his pants are around his thighs, he has his cell phone in one hand and his hard-on in the other. He doesn't notice security guard Donnie Dean walk into the garage. "You tripped my alarm," Dean says. "I was wondering when you were going to catch me," Decker quips. "You've got to stop coming here on my security shifts," Dean says. Decker gives his dick a couple of quick strokes: "I haven't cum yet."
As the final scene of Titan Men's "Bad Cop" continues, the men embrace and Dean is down on his knees pretty quick. Dean is one of the best cocksuckers we've got in Pornland. In fact, if he ever taught a class called "How to Give the Best Head Ever," there'd be a long waiting list of students eager to learn, especially if the lessons were one on one. He's always a pleasure to watch. But Ricky Decker is no slouch either. And Decker has beautifully plump lips that look extra sexy sliding up and down Dean's bone.
Decker bends Dean over the storage box and fucks him right in front of the "Open Trench" construction sign leaning against the wall. We never get a clue about their relationship. Decker is a cop, Dean is a security guard. But they already seem to know each other. Are they fuck buddies? Are they husbands taking an opportunity to spice up their relationship? Or have they just been cruising each other and this is their first time together? But the not knowing revs me up, it gets my fantasies spinning and wondering. And isn't that what good porn does?
By the way, Dean's cumshot at the bottom of the second collage is real. I watched Decker grab Dean's hard-on and stroke it while he continues plowing Dean's butt. As a bottom, I can't imagine a hotter way to cum.