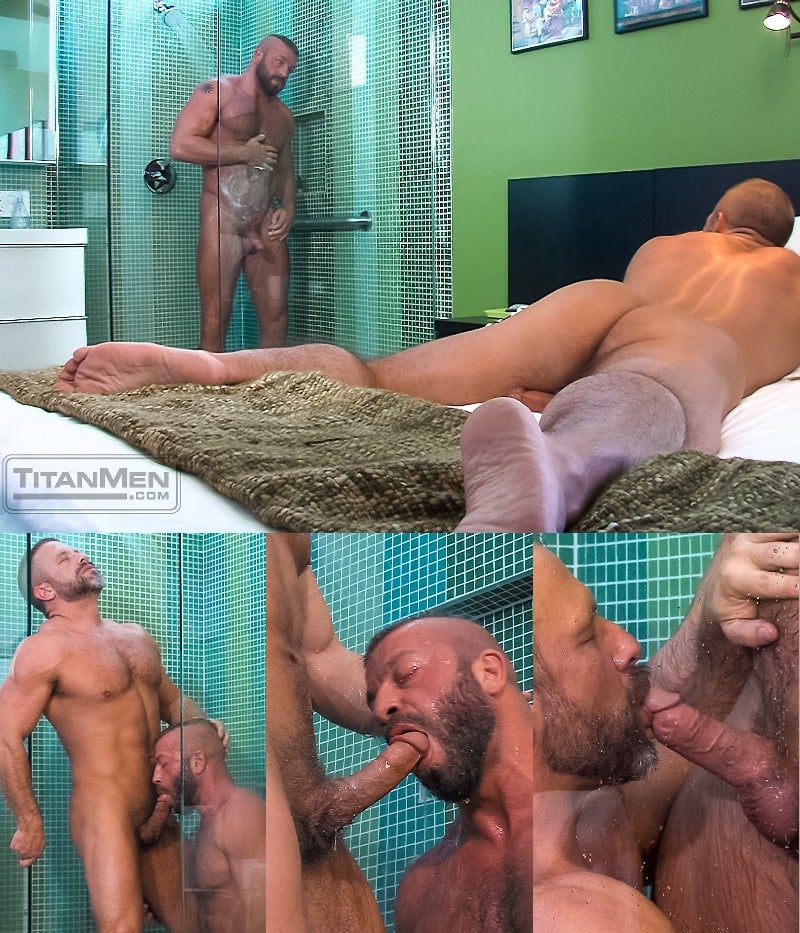 ---
Scene Pictures
Watch Hunter Marx Drilling Dirk Caber's Hungry Hole
Hunter Marx and Dirk Caber debut in Titan Men's newest DVD called Double Exposure, and not only are they a sexy pairing, but I can't wait to watch Hans Berlin drilling Tyler Rush in the next scene. As well, Double Exposure brings together Felix Barca and Christopher Daniels, neither of whom I've seen for quite a while. But this first scene opens with Dirk Caber lying back on his bed watching Hunter Marx in the shower, let's head inside and see what happens.
Just a glass wall separates the shower and the bedroom, so Dirk Caber has been watching Hunter Marx showering. And while Dirk's cock is getting rock hard, he's snapping pictures of Hunter lathering under the spray. Dirk rolls over on his stomach and grinds his hard-on into the mattress. Dirk puts an end to the tease and climbs into the shower stall with Hunter. They kiss with water cascading down their muscled bodies, then Hunter kneels and licks the underside of Dirk's erection.
They kiss some more and eat each other's asses, and Dirk sucks Hunter's fat dick for a long time. They towel off and head into the living room. (Who knew 1970s beaded curtains were back in fashion? And white leather sofas, too.) Dirk straddles the back of the sofa and offers his asshole to Hunter and the bearded hunk slides inside. "Come on fucker! Right there!" Dirk grunts. Hunter reaches around and scoops up precum off Dirk's dick. He feeds it to Dirk, then goes back for another helping of the sticky goo for himself. Hunter sits back on the sofa and Dirk rides him hard with his own boner flopping wildly, then Dirk lies back and Hunter fucks him till he cums. Then standing over him, Hunter unloads his own nuts.