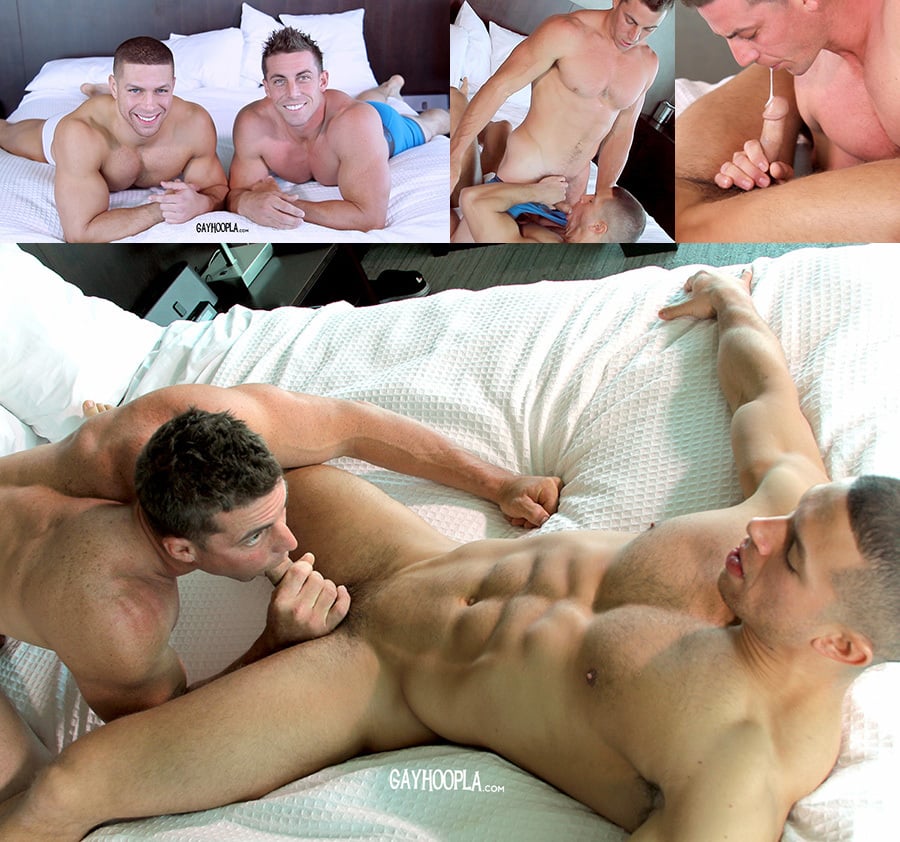 I definitely perked up the first time I saw Gay Hoopla's Sean Costin. Didn't you? He's a good-looking hunk with massive muscles; he weighs 220 pounds and I love those bulging guns. I wasn't surprised when he showed up in February fucking a guy, most of the Gay Hoopla studs top, but I was gobsmacked this morning when I saw bodybuilder Derek Jones pounding Sean's beautiful hard butt. I didn't think we'd ever see Costin bottoming, but it gets better, come inside and find out why.
Derek Jones is new to Gay Hoopla and he's even more muscular than Costin -- look at those rolling shoulders and plump pecs. Good grief. This video is a feast for the eyes. But forget about all the muscles for a minute, Derek and Sean have awesome chemistry, in fact, Gay Hoopla tells us these guys have been speaking every day since the shoot. Interesting. Bromance? While thrusting into Sean's ass Derek says, "I'll give you that dick any time you want it." So maybe Sean is trying to take him up on his offer.
Derek is a good dirty talker, and that's really what I loved about this scene. I hate when all we hear in a porno is an endless stream of fuck yeah, oh yeah, and yeah fuck me. But Derek and Sean have good fucking banter. "Tell me you like my dick," Derek grunts. Gripping the sheets Sean says, "Your cock is so much better than my toys." Whoa! Toys? Maybe I've just assumed Costin is straight because he's on Gay Hoopla and they always tell us their hunks are straight. But Sean really enjoys Derek's cock and blows a massive load all over his washboard, so maybe I've got it all wrong. Doesn't matter really, this is possibly one of Gay Hoopla's best scenes ever.
Oh yeah, and the "it gets better" part I teased you about earlier: Sean Costin gets spit-roast fucked in a threeway and that's coming out on April 27, until then, you'll have plenty of his videos to keep your dick hard.