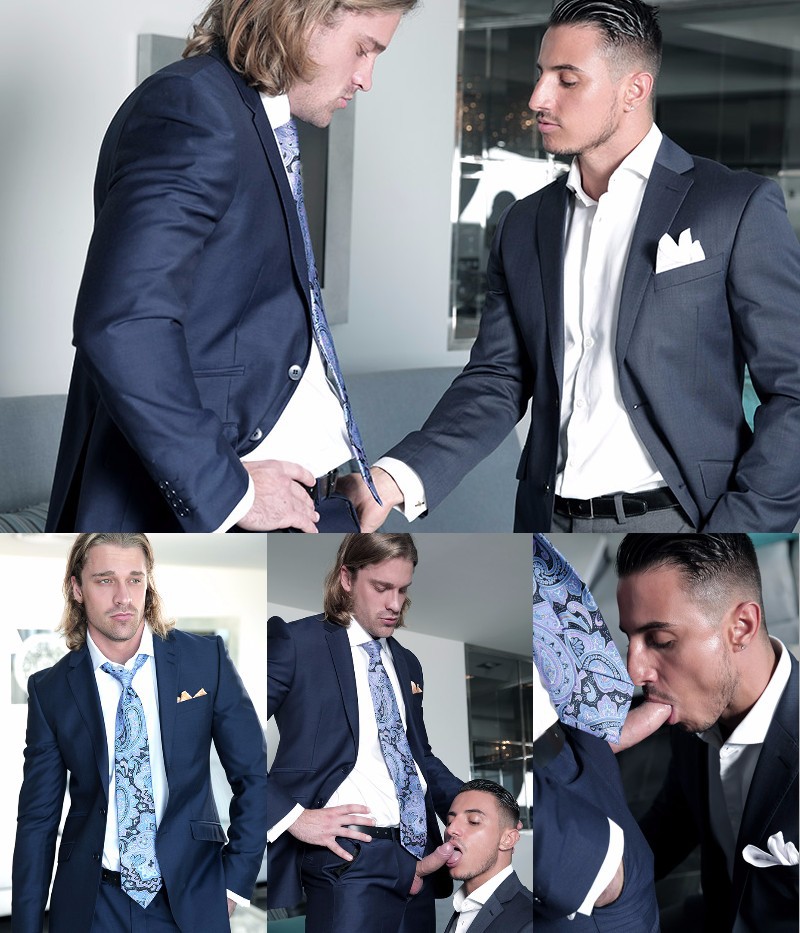 Watch Blond Hunk Johan Kane's Second Video
Klein Kerr arrives at his client's home to deliver a new suit in Men at Play's new scene called Dapper. Johan Kane is a hunky blond with shoulder-length hair who is already waiting in his underwear for the fitting. Come inside and see what happens next.
Klein unzips the suit bag and makes sure everything is in order, then he hands one piece at a time to his customer. Johan dresses and Klein helps with the details like adjusting the jacket or straightening his tie. Klein senses his client wants more than a fitting, so pretending to adjust the trousers, Klein's hand "accidentally" brushes Johan's bulge. The hunk stands dominantly and doesn't flinch. Klein takes his cue and gropes Johan's stiffening cock, then he unzips the trousers and goes to work on the blond's uncut meat.
The fuck scene is a bottom's dream come true. Johan pushes Klein to his knees on the couch and smacks his ass. He spits in his hand and slaps it against the fabric against Klein's asshole, then he grabs the trousers in each hand and rips them open. Johan slides his cock through the glory hole and into Klein's ass. Later, he rolls Klein onto his back and screws the daylights out of his tailor. Hard. Fast. OMG.