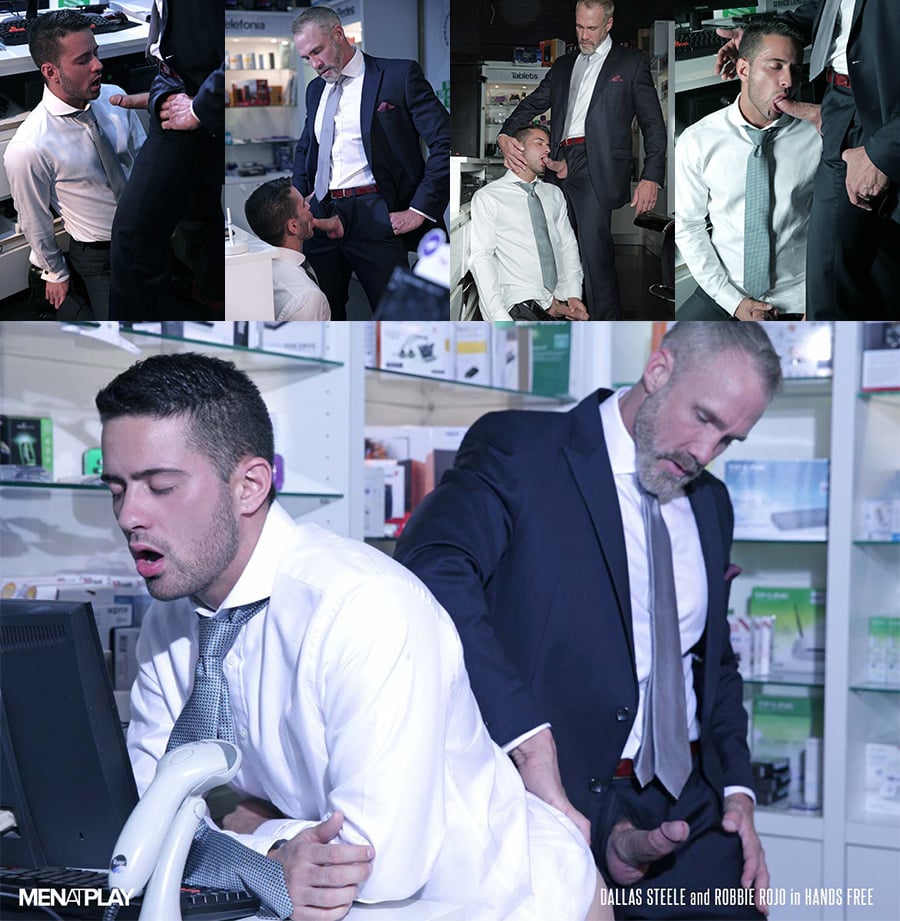 Have you ever worked in retail? If you have, no doubt you've had a customer or two who you would have blown right there in the store. Robbie Rojo is a cute lad who works in an electronics shop and he's smitten with a handsome silver daddy who comes into his store. Dallas Steele is so irresistible that Robbie doesn't even try. In Men at Play's Hands Free, when Steele comes behind the counter, Robbie squats and gives this daddy's thick cock a deep gulping. When a customer comes in the store, Robbie doesn't stop sucking while Dallas plays employee and helps the customer.
Workplace sex is some of the hottest sex a guy can have. It's naughty, it's forbidden, and it's dangerous because the ramifications for getting caught involve you trying to explain to the unemployment benefits officer why you were terminated. I'm sure I've told this story before, but during the summer before heading off to university, one of my three jobs was working at a gas station. Late one Sunday night, a straggler heading home from cottage country hit my gas station just as I was closing. Long story short: after I filled his tank and collected my money, I took him into the back of the garage and sucked him off on my boss' desk. (Notice how I didn't play up that "fill his tank" double entendre?) That quick encounter has remained in my spank bank all of these years.
A customer just assumes Dallas Steele works in the store, he is standing behind the counter after all. He asks Steele if he has some head phones in stock and Steele sends the customer on his way: "They're out of stock, but we'll have more on Tuesday." When the customer leaves Steele grunts, "Okay, get back to work." Robbie takes a few more swallows of Steele's fat dick, then the daddy pulls him to his feet. Steele feasts on Robbie's ass, then fingers it before bending him over the counter and pounding his sweet hole. The store clerk begs Steele to drill him harder and finally shoots his load with Steele's dick in his ass.