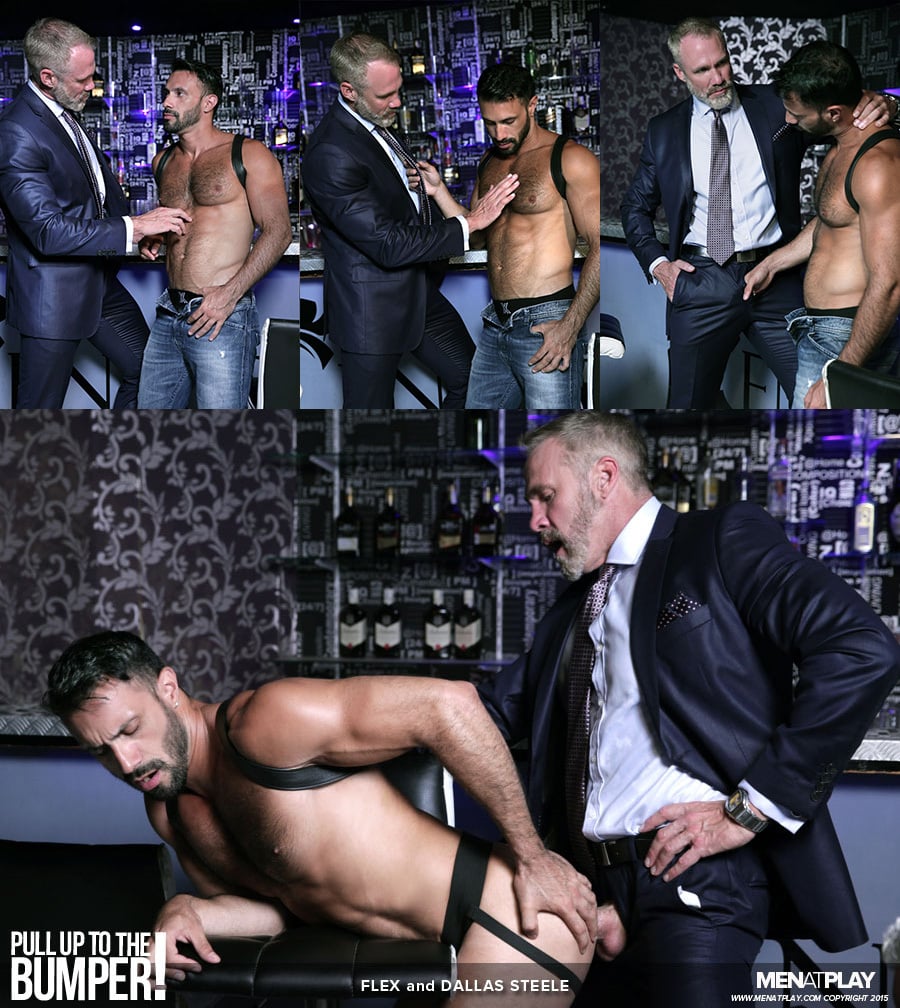 Dallas Steele is your typical cocky American businessman, he thinks that he can flash his money and he get whatever he wants. In Men at Play's Pull Up to the Bumper! Steele sits down at Flex's bar. When he's got the bartender's attention, he slides 50 Euros across the bar asking, "What would I get for a 50?" In Greece he'd get fuck all ... sorry, too soon? But this is Spain and Flex slides the bill into his jeans and leans across the bar and kisses the executive. Steele pulls out another 100 Euros and slides the two bills across the bar. Come inside and see what that buys him.
Flex comes around from his bar and Steele rubs his bare chest. The bar is empty, so Flex kneels and unzips the businessman's trousers. Steele is packing an impressively thick cock and the bartender downs it easily. Steele pushes the Spaniard over a bar stool and buries his grey beard between those unbelievably huge cheeks. Flex reaches between his legs and grabs Steele's tie and pulls it tight, Steel can barely breathe, but he loves it.
Flex eventually releases Steele and the horny executive lines his cock against the bottom's wet hole. Steele rides this 100 Euro ass and drills him forcefully. Flex has been fucked hard before, and even on this very bar stool, so he takes it and loves every inch of Steele's fat meat. And I'd say that was an easy and fun 150 Euros, wouldn't you?