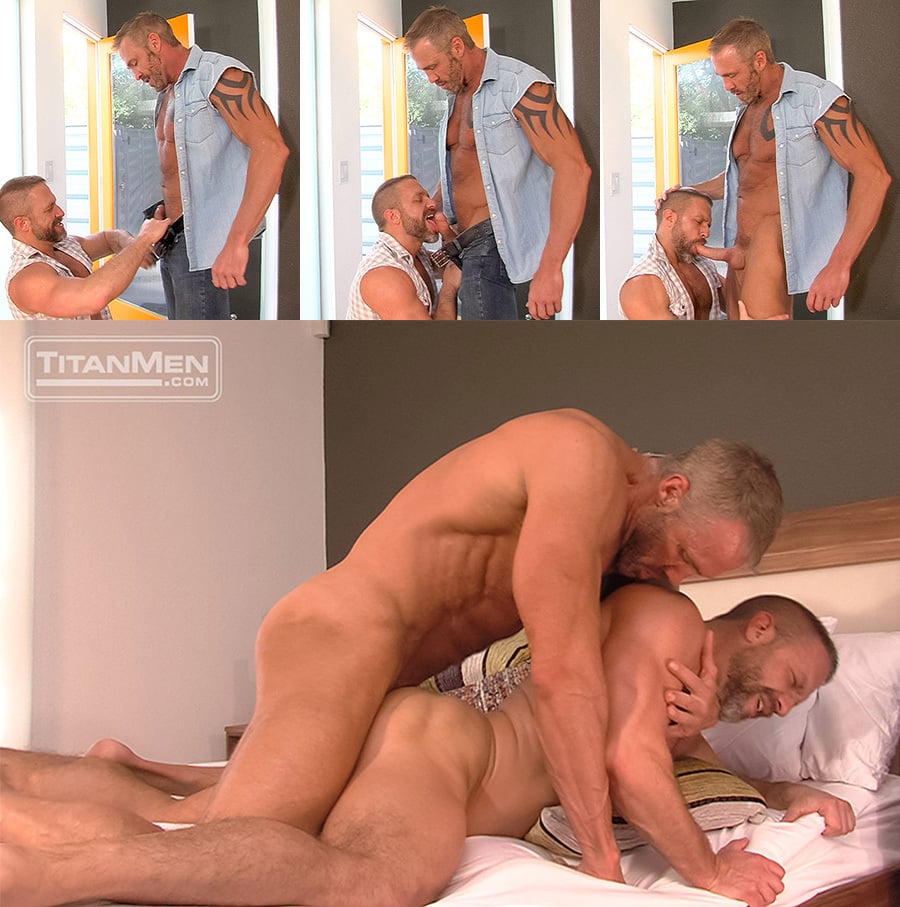 I knew it was only a matter of time before Titan Men snapped up Dallas Steele. He's a handsome daddy with a bit of grey speckling through his hair and beard. You couldn't really call it salt 'n pepper because he's naturally more blond than brunette. I first saw Steele on a couple of European sites and thought, "Oh he's a Titan man." So I wasn't surprised to see him and Dirk Caber flip flop fucking in my assignment queue this morning.
Men at Play gets the credit for introducing me to Dallas Steele. I blogged about his first scene with Flex where he bent the power bottom over his own bar and drilled his ass, and then a couple of weeks later, he gave his nosy neighbour Logan Moore a hard pounding for complaining about his nude sunbathing.
But what disappoints me about Steele's appearance in Blue Collar Ballers is that Titan Men has him flip-fucking with Dirk Caber. I was quite content watching Steele topping and I'm not sure that I ever wanted to see him bottom. In real life he's a daddy, he's even got a boy named Taylor Bishop who calls himself Boy Steele. And even though Dirk Caber looks every bit the daddy, I would have been more than turned on watching Steele slamming Caber's ass. I'm not saying this is a bad scene, it's quite hot. I'm just saying seeing Dirk face down on the mattress with Steele drilling the daylights out of his is all I needed to blow my wad. I didn't need to see Steele's legs in the air.