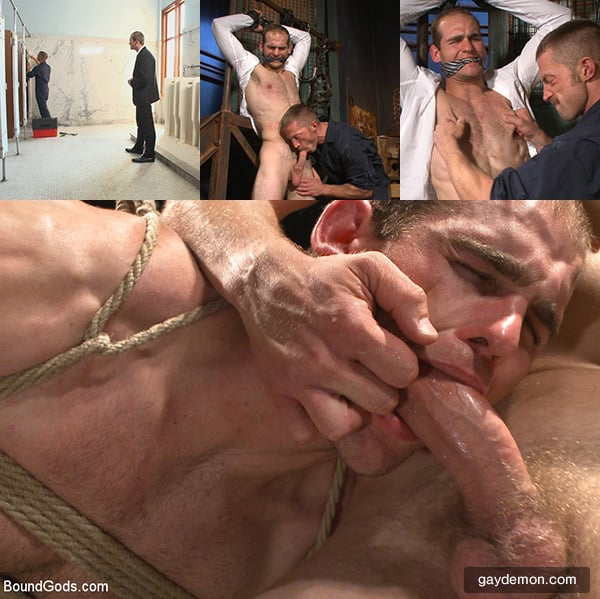 It seems that the creepy handyman has been a little too enthusiastic with his nasty play sessions. People have been complaining about weird noises coming from the basement, so the boss, Mr. Smith, is here to investigate. He finds the janitor, Adam Herst, doing some repair work in the toilets and talks about what he's heard -- now he wants a tour of the basement.
I love the Creepy Handyman series at Bound Gods. Adam Herst has recently taken over the role from Trenton Ducati, who was always deliciously nasty and I enjoyed watching him. "I'm Here For The Bootcamp Class" was one of my recent faves. But Herst has been a longtime favourite of mine as well, and that long dick of his always gets me revving hard. And when it comes to playing a dirty-minded pervert, Adam Herst is every bit as good.
So back to Mr. Smith. He discovers the janitor's perverted sex pit in the basement and says, "I'm sorry, but I have to call this in." Big mistake. Herst jumps his boss, ties him up, and begins the tough job of convincing Mr. Smith to keep his secret. The handyman has a whole room full of nasty toys -- restraints, floggers, and all kinds of things to shove up a man's ass, including Herst's own huge dick -- so Mr. Smith won't be going anywhere for a while, and when he does finally leave, he'll be walking funny.