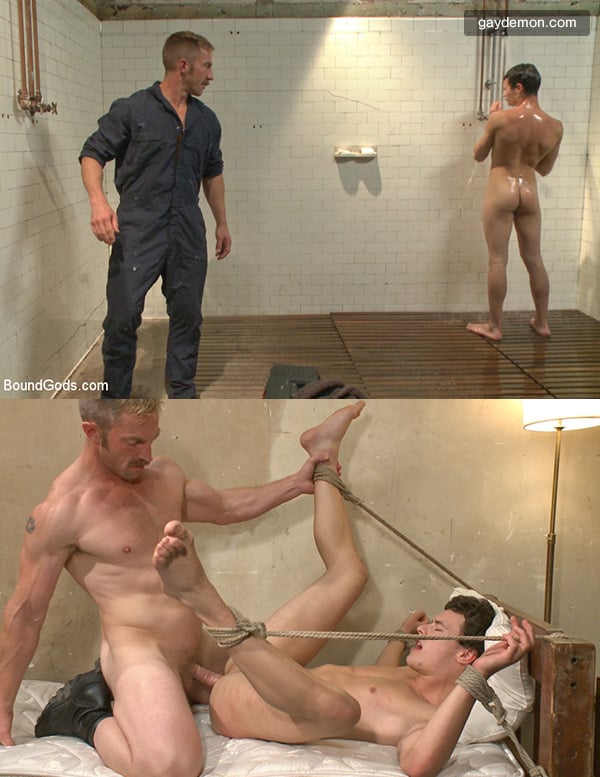 The Creepy Handyman is one of my favourite series over at Bound Gods. And over the years there have been a number of different pervy janitors and handymen, Trenton Ducati was the latest and I got so revved up watching him overpower men then have his way with them. But it looks like there's a new Creepy Handyman -- Adam Herst has just filmed his first scene. He's hardly a newcomer to Bound Gods, he's filmed 19 scenes for them now.
This one starts out easy with hung Micky Mackenzie playing with his cock in the showers. The handyman jumps the lad while he's dressing at his locker. Micky finds himself roped to the bench and Herst nurse on the boy's cock. Micky struggles to break free, but the ropes are too tight. Still, he squirms and protests while this perv sucks his dick.
The janitor snaps a riding crop on Micky's pecs, then stands Micky up and suspends his hands over his head for a good flogging. Screaming "you're crazy" at a man beating you probably isn't a good idea, in Micky's case it just makes Herst all the more angry. He swirls around Mickey and viciously whacks his naked body with the flogger. Then tied to the bed, Micky feels what it's like to have a big cock up his ass. My favourite sequence? Herst grabbing a fistul of those curls to hold Mickey's head still while he cums all over the lad's face.