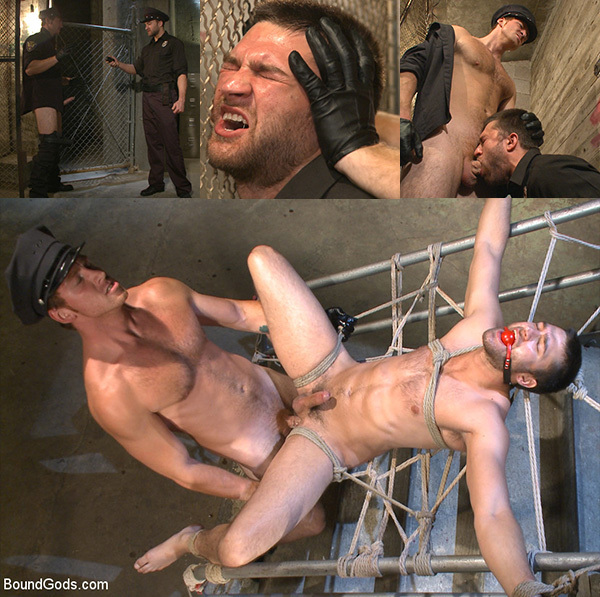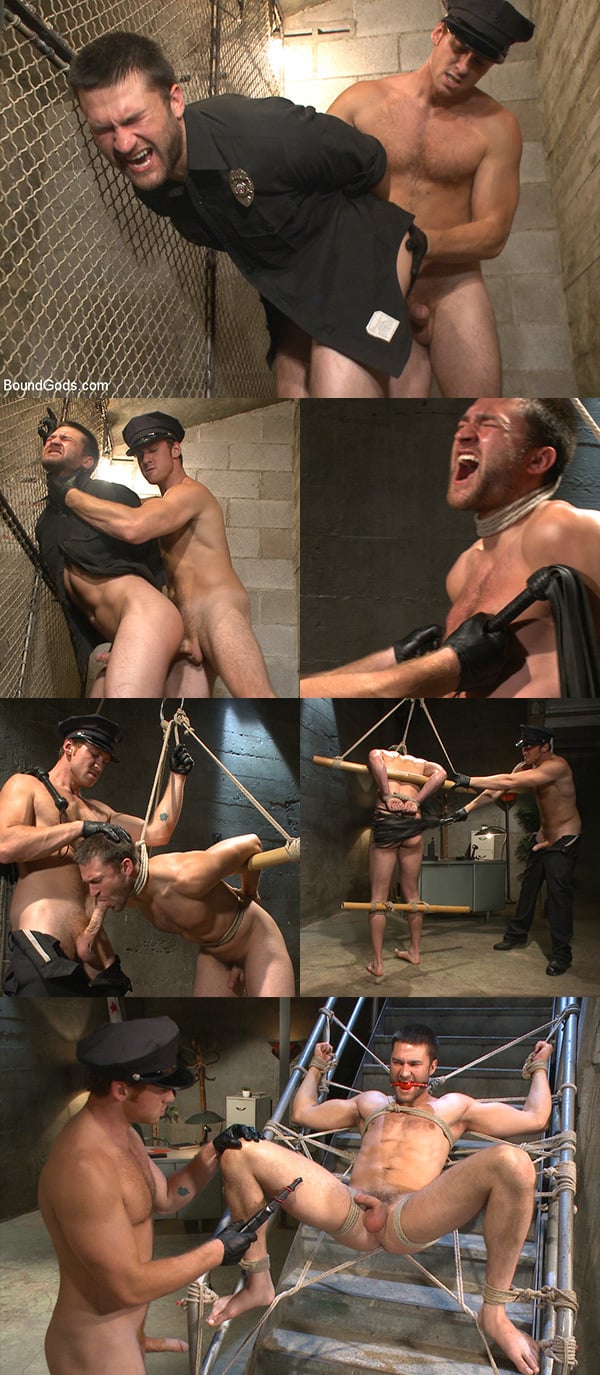 Officer Abel Archer is doing his rounds in the police station's lock-up when he comes across a fellow cop having some bum fun with one of the inmates. Office Maguire has this blond skank pushed against the fence and he's drilling his ass. Archer intervenes and the inmate makes his getaway. Archer pushes Maguire against the wall and attempts to cuff this dirty cop. "It's disgusting, it's wrong, and you're breaking the law," Archer says. Ah, it's the old good-cop-bad-cop routine. But this is Bound Gods and good never triumphs over bad, or not for long anyway.
Maguire twirls around and now it's Archer who has his face planted against the wall. "I am the law," Maguire grunts. With his hands cuffed behind his back, officer Archer is helpless and Maguire easily pushes him to his knees. He holds Archer's head and rams his big cock into the cop's mouth. Then Archer finds himself exactly in the same position as the prisoner he just rescued -- pushed against the chain-link fence with Connor's big dick plunging his hole. "You fucking cock blocked me," Connor grunts while drilling Archer's hole, "I'm going to get my nut somehow."
Archer is restrained and the bamboo and rope contraption is suspended from the ceiling and Maguire flogs him. Eventually Maguire grows tired of Archer's whining and yelling, so he ball gags him and ties him to the stair railings. He screws Archer's ass some more and has some fun with a zapper. And to teach Archer a final lesson, Maguire holds his mouth open and fills it with spunk. So where's this police station? I've got to get myself arrested.