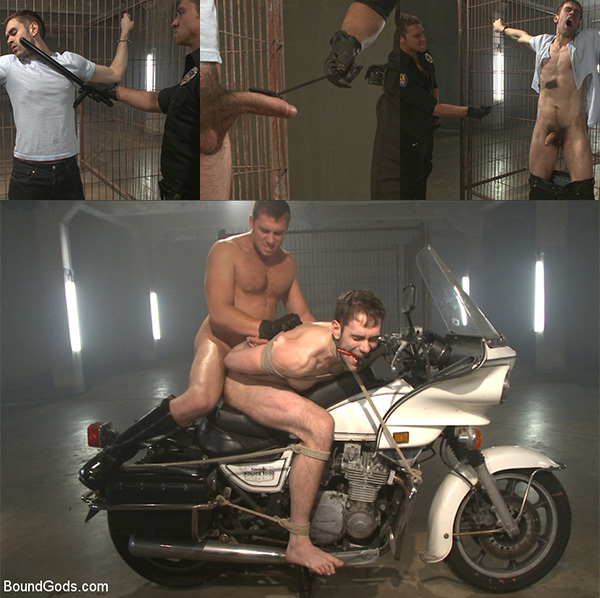 Office Maguire is back and he's got sexy Patrick Isley locked up in his cage in this latest session over at Bound Gods. I love how these prisoners always bark and spit at their captors. "You've gotta arrest me or let me go," Isley yells. Yeah, or what? What are you going to do with your hands tied behind your back? "I have something else in mind," Maguire says.
There are several things that I liked about this scene. First, there's Isley himself. He's a lean guy with a big, meaty uncut cock and some very bushy pubes, which are a welcome sight in this age of over manscaping. It's nice to see that men actually still grow hair down there. Isley has a thick pair of thighs and a meaty butt that's also covered in fur, but that doesn't make Maguire's cane sting any less.
The second thing I enjoyed here was Maguire's use of mousetraps. I've never seen them used in this way before. He fans out a couple dozen mousetraps on the floor, then whips Patrick with his cane. As Patrick tries to avoid Maguire's strokes, he inevitably sets off a couple of mousetraps with his bare feet. Ouch! Maguire even uses a couple of mousetraps as tit clamps. And of course who doesn't enjoy seeing a sub roped to a motorcycle and fucked?