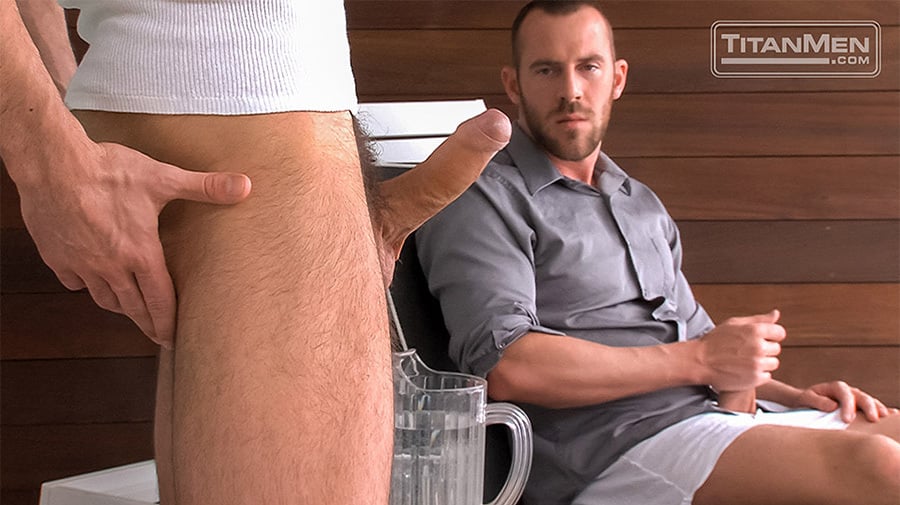 Handyman Dario Beck has finished his work and heads out to the deck to say goodbye to his boss Colby White. Beck stands over White who is sitting in a lounge chair. Unlike most scenes in Pornland, there's no pretense here, no fumbling in pockets for non-existent money, no wondering out loud if there's something else Colby can do to make it up to the handyman. White just comes right out with it: "I guess there's just one thing left to do before you go ... show me your dick." Beck is a little surprise, but unbuttons his jeans and pulls out his uncut cock.
Titan Men confuses the fuck out of me. In July 2014, Raging Stallion was desperate to film Dario Beck, who was still a Titan Men exclusive, so Beck was given permission to film two scenes with Raging Stallion. But Titan Men eventually let Beck out of his contract and he signed on with Raging Stallion permanently. But the thing is that Dario Beck has never stopped appearing in Titan Men productions, the studio had so many Beck scenes already in the can that they've been rolling out alongside his Raging Stallion videos. And the write-up for this one from Spur of the Moment still refers to Dario Beck as a Titan Men exclusive. All of this isn't only confusing for porn viewers, but how the hell is a porn blogger supposed to keep all of this straight? Funnily enough, Beck's latest video with Raging Stallion is called Clusterfuck! How absolutely appropriate.
Back to Spur of the Moment, Dario Beck pulls out his cock and Colby White stands and faces the handyman. They grope and stroke each other, then Colby kneels and wraps his lips around Dario's uncut meat. Then he stands again and with Dario working their cocks together, Colby asks, "You wanna suck the boss?" Not only does Dario blow the boss, but he lies back in the chair and lets White feast on his hole. Then the handyman kneels on the chair and offers his hairy fuck hole to the boss and Colby happily stuffs it. And look at the wad of juice Colby shoots out of his dick, it's quite the flyer and it's real.