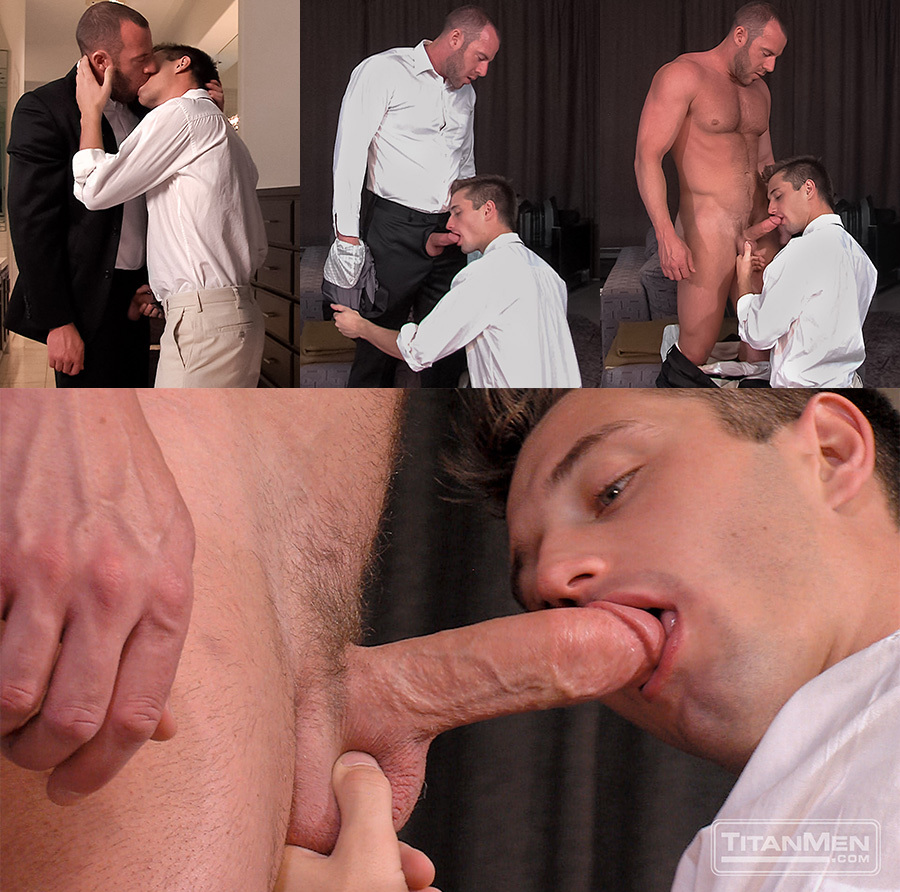 When I first saw Colby White in Titan Men's Opportunity Knocks, I did that "who's that?" thing that I often do when I see a new sexy man. The thing is that this is White's third scene with Titan, but I'm seeing him for the first time. Oh well, there's so much falling into my email box every day that I don't get to see everything. And the nice thing about discovering these men that I've missed is that there's some horny catching up to do when I eventually find them. Come inside and see Colby White giving JD Phoenix a thorough fucking.
JD Phoenix escorts his brother-in-law and TV star Colby White back to his hotel suite after the hunk had a bit too much to drink. Colby heads to the bathroom to take a piss, but when he returns, his cock is hanging out of his fly. When JD points it out Colby just says, "Oh, look at that." Colby asks if JD is okay to drive home. "I think I should stay here tonight," JD says. He still hasn't stopped staring at Colby's cock, which is now starting to swell. Finally, Colby grabs JD's hand and guides it to his cock and after a couple of pumps, they kiss.
They head back into the suite and JD starts undressing his brother-in-law, then he kneels to do what he's been dreaming about for a while. I generally like watching bigger muscle hunks plowing skinny guys, so I like this pairing. Colby bends JD over an ottoman and plows him and I love watching his muscled body working up a sweat. But JD's cumshot is the real scene stealer. On his back, JD strokes his cock while Colby continues pumping, then a stream of cum flies out of JD's dick and sails over his shoulder onto the floor behind him. Truthfully, JD never manages to get much cum on his torso, but that carpet is going to need a steam cleaning. Colby makes up for it though and unloads several big pools of cum on JD's abs.