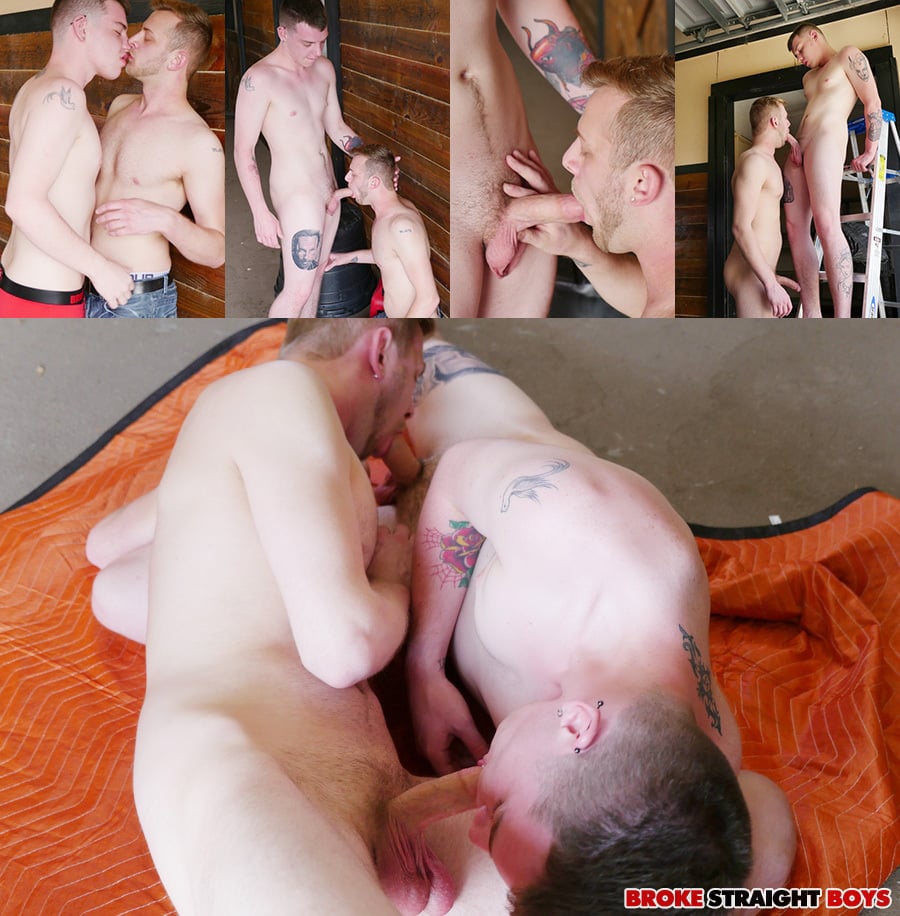 I have always found 69ing difficult to manage, it's a bit like that patting-your-head-rubbing-your-belly thing -- it looks easy until you try it. For me, I guess it's a bit of sensory overload, you know, trying to suck a dick when all you want to do is throw your head back and groan, "Ahhhh." But Ryan Fields and Chandler Scott manage just fine while blowing each other 69 style on the barn floor in this Broke Straight Boys video. But before they lie down on the floor, they do some kissing against the wall and blow each other on a ladder. Come inside and see.
Chandler Scott is a sexy blond guy, he's 25 years old, and this is his first hardcore scene at Broke Straight Boys. He told them in his interview that kissing another guy was going to be a challenge. I've heard that from more than one guy over there. It's funny that they'll stick a dick in their mouth, but kissing is definitely crossing some kind of jittery line. I don't really understand the logic, but I guess kissing is considered more lovey-dovey or romantic and a blowjob is just a cock in your mouth. Still don't get it.
And since Chandler says the kissing causes him to bristle a little bit, that's where they start. Ryan pushes Chandler against the wall and kisses him. See, that wasn't so bad. Then comes the funny part: Ryan pulls down his pants and Chandler kneels to suck his first cock. No licking, no just-the-tip trials -- Chandler goes all the way. Ryan is not huge by any means -- his BSB bio says he's seven inches -- but I've seen supposed first timers sputter on a lot less. Chandler even handles a deep-throat fucking when Ryan climbs on the ladder and rocks in his mouth. It's a hot blowjob scene, which ends with both lads shooting their wads across the barn floor, but I doubt this is truly the first time Chandler has sucked a dick -- he's just too good.
See more at Broke Straight Boys