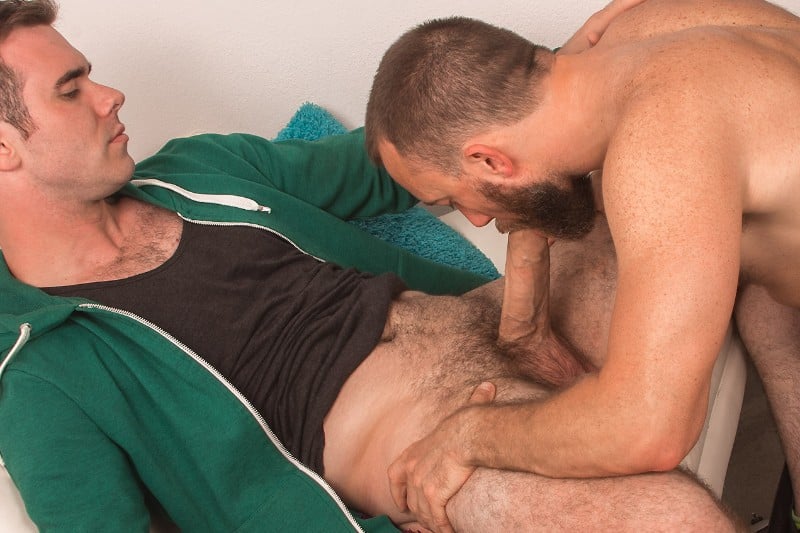 Get 25% Off a Titan Men Membership - Click Here
Matthew Bosch finally makes his porn debut in Titan Men's Cauke for President. The hunk was signed to an exclusive deal months ago and we've been waiting ever since for this scene. If you haven't see any press on this DVD, it follows a presidential hopeful caught in a sex scandal -- geez, that never happens -- involving a homophobic U.S. Senator and his gay hookup. Come inside and check it out.
Matthew Bosch is playing a U.S. Senator on the road to the White House, or so he hopes. In this first episode of Cauke for President, Mike Cauke is cruising a hookup site from the bed in his hotel room. He's naked and playing with his huge cock and texting with a potential hookup. I've got to say that if you love hairy arms and legs, you'll go gaga over Bosch -- what a hunk! His thick cock is an eyeful, too.
The Senator heads over to Nick Prescott's place and enters through the patio doors leading right into the stud's bedroom. Nick bounds off the bed and pushes Cauke to his knees and fucks his throat, he fucks the Senator's ass too. But what Cauke doesn't know is that Prescott is secretly recording their whole encounter, and once they dump their loads, things are just getting rolling.