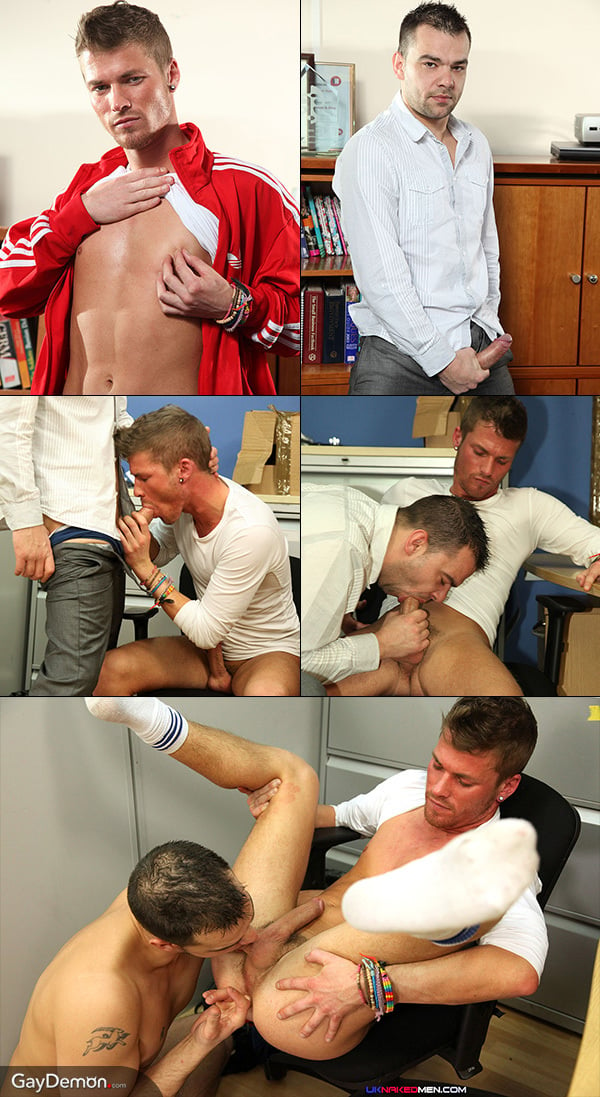 Matt Brooks arrives at the office early and he sets up a web cam under Mackenzie Cross' desk. In this office sex scene from UK Naked Men, Mackenzie arrives at work and it's not long before he's doing what he always does -- watching a porn video on his computer and wanking his cock under the desk.
While watching on his web cam, Matt makes small talk with Mackenzie from across the way and Mackenzie continues stroking his dick thinking that he's safely hidden behind a wall of filing cabinets. "I'm quite busy at the moment," he says trying to shut up Matt. Then suddenly Mackenzie turns around and finds Matt leaning on the cabinets behind him, watching his co-worker beating off.
Brooks comes around and helps himself to Mackenzie's stiff dick. And once he gets his co-worker completely revved up, Matt throws his buddy across his desk and fucks his ass with his big, thick uncut cock. Matt sits back in the desk chair and Mackenie rides his hard-on. Then it's back to the desk for some more ass fucking until Matt finally unloads his balls all over Mackenize's bare foot.