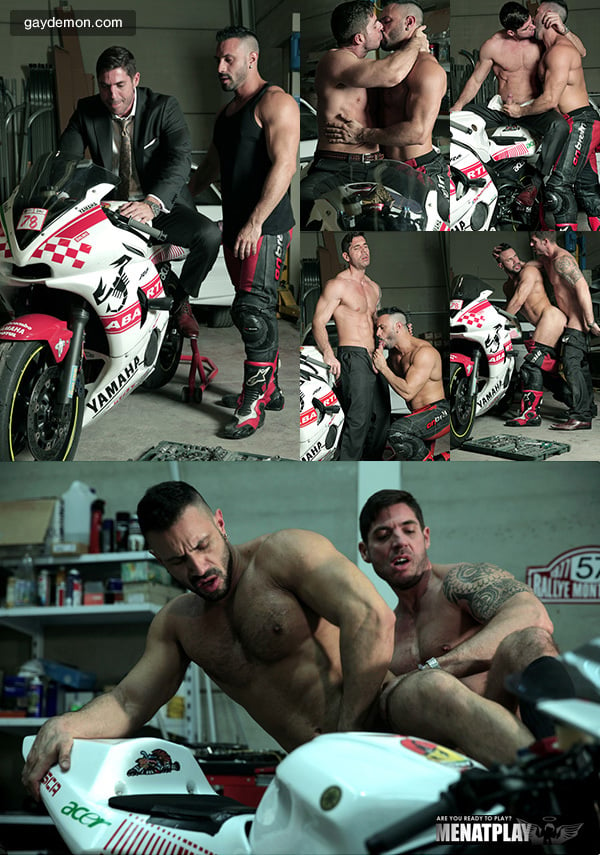 Flex is working on his motor bike in the garage when executive Axel Brooks comes in, he's smartly dressed in his brown suit. "That's really cool," Brooks says. "Can you fire it up for me?" Flex does, then he lets Brooks sit on the bike. A look, a smile, a raised eyebrow, and Flex peels off his shirt. This is Men at Play and Axel didn't come into this garage to ride motorcycles. Well, maybe he did at first, but once he catches a look at Flex's ass, he's got a different kind of riding on his mind.
I remember the first time I saw Flex Xtremmo's butt, it was over at Tim Tales and Tim Kruger had Flex bent over ready for a fuck -- Flex's ass was ginormous. It had me wondering if it was real, and if it wasn't an implant, then Flex does nothing but squats all day in the gym. In this Men at Play scene, Flex's butt looks plump, but it's look more like a regular pornstar ass -- big, round, muscular, and very fuckable -- and less like a cartoon butt.
Brooks starts peeling out of his suit and then men get down to some kissing and sucking. With his dick hard and aching to slide into Flex's beautiful ass, Axel makes one more stop and gets down on his knees where he buries his tongue in Flex's hole. Then he replaces his tongue with his hard cock, and of course the men mount the motor bike and fuck -- how could they not? -- and Flex holds the handlebars while Axel pumps them home.