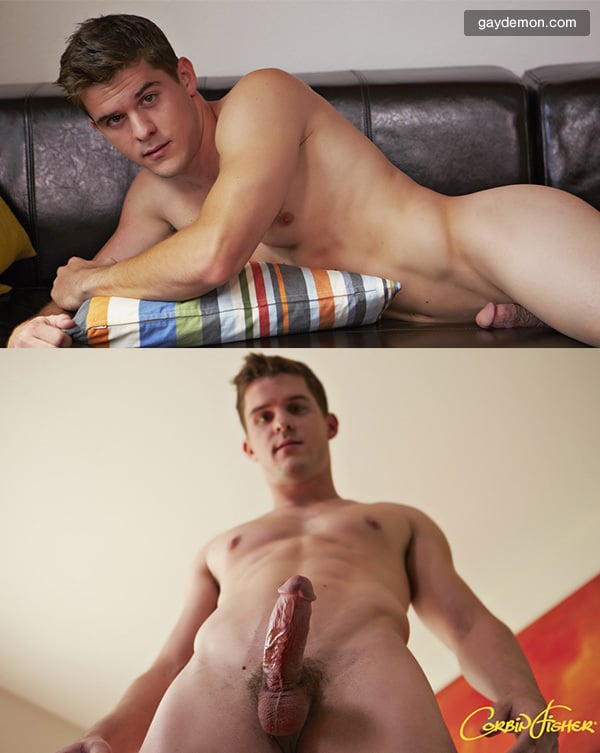 Camden is a good-looking guy. Whether it's giggling school girls at the mall or dirty old men in the gym locker room, Camden turns heads. He caught my eye this weekend when I was checking out the new arrivals at Corbin Fisher. I'm neither an old man or a school girl, but I can be dirty. CAmden is one of those guys who pretty much has it all: a nice body, handsome looks, nice hairy, and a decent-sized dick.
Well, he almost has it all. When Pete at Corbin Fisher asks Camden if he's an exhibitionist, his eyes gloss over. "You know, do you like to show off?" Camden answers, but talks about being competitive. Oh well, like I said, he's good looking. And if there's any doubt about Camden being straight, he says that he likes Hanes underwear. I guess there's nothing wrong with Hanes underwear, but don't gay men grow out of them when they stop letting their mothers do their shopping?
Camden is definitely a grower. Sitting on the couch naked, he's sporting a small soft cock. The camera pans up to his face, then back down. Hello! Where did that come from? The boy's packing a nice dick. It's not huge, Corbin Fisher says it's seven inches, and it's a little on the thick side. And Camden is an all-at-once cummer. He's stroking and you can tell he's getting close by his soft pants. He stops jerking and holds his cock, and some watery precum oozes quickly out of his dick, then a gush flies out and splats between his pecs, one final squirt across his belly, and he's done. Camden said in his interview that he loves getting his dick sucked, so I expect we'll be seeing some more of this beauty.