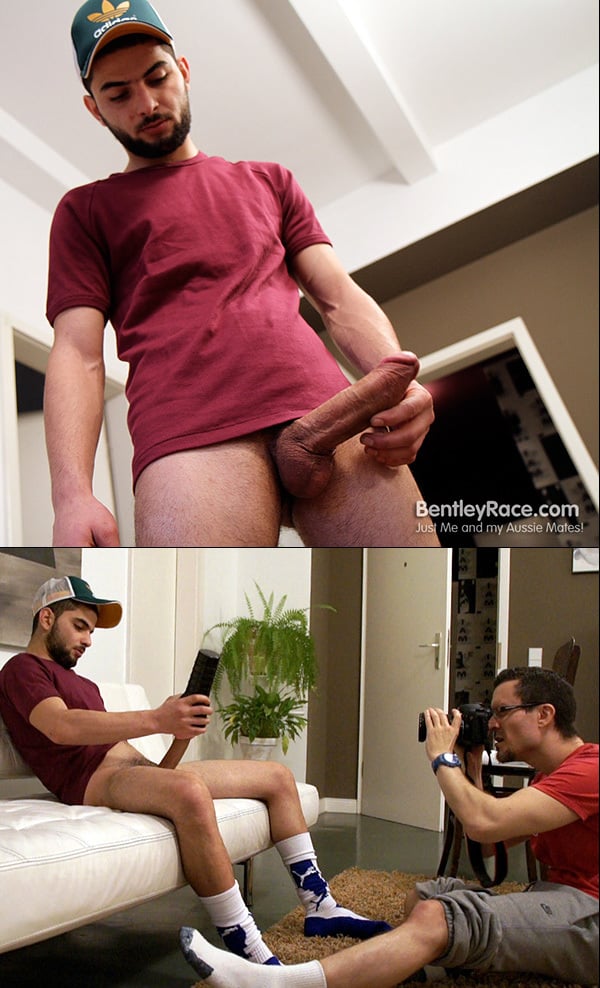 Ben from Bentley Race recently took another European trip, which means we're going to have lots of hot and hung Euro studs to look at in the weeks ahead. He spent quite a bit of time in Romania and said to me: "I can't believe how many huge cocks there are in this country." Before heading back to Australia, Ben headed to Berlin where he did some more filming.
On this particular day, he had quite a few guys stopping by his apartment and showing off their uncut cocks for the camera. He was getting ready to call it a day when the buzzer went off, but by the time Ben got to the door, there was no one there. He hung around outside for a bit to see if the visitor would surface, then he spotted a guy smoking on the other side of the street. Finally, the guy crossed the street and was looking at the numbers on the building. "Can I help you?" Ben asked. This bearded guy moved closer and in broken English whispered, "I'm Huge Cock".
Kane Wakeman is a 23-year-old Bulgarian guy visiting Berlin with some friends. And as you can see, he indeed has a huge cock -- a good 9 inches long and quite thick. With no one else coming over for more filming, Bentley Race decided to take his time with this hung stud. After showing off his fat dick, Kane picked up a Fleshlight and slid it down his meaty shaft. And after some teasing play, Ben got between his legs and got a taste of this very nice Bulgarian penis. Ben couldn't really manage to swallow much of it -- that's how big and fat it was -- so he licked Kane's shaft and balls while he continued Fleshjacking his hard-on. And this boy can shoot a cum load! Right over his shoulder!