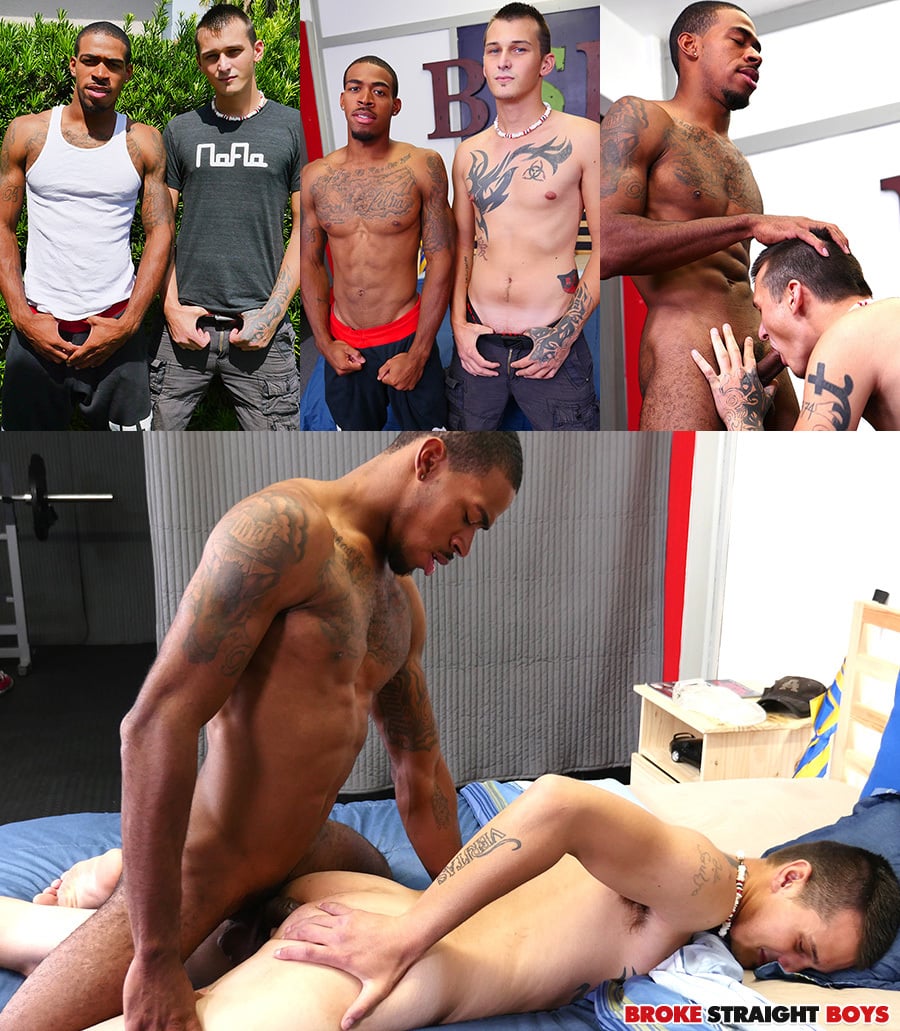 When this Broke Straight Boys video opens, Jaxon Ryder and Brice Jones are talking about the scene they're about to film. Brice is topping, but he's only done one other fuck scene, so he wants to know if there's anything that turns Jaxon off. "I don't like kissing, so if we can steer clear of that." It's funny, isn't it? A straight guy will suck a cock, he'll stick his dick in a guy's bum, he'll even bend over for another dude, but don't kiss him. That's gross.
Brice Jones is a sexy guy. He's tall and lean with a smooth body and he's got quite a few tattoos. He's wearing a thin mustache and some chin scruff and he's packing a big uncut cock, challenging for a guy who hasn't bottomed much. I think Jaxon has only bottomed twice in his 12 scenes and he's not looking forward to this one, but he hasn't even seen Brice's dick hard yet. Jaxon kneels and starts sucking and feels it growing in his mouth.
"Are you ready for this cock?" Brice asks. Jaxon says he isn't and grabs the lube saying, "But with lots of this I should be okay." He lies on his stomach and says, "Now you have to baby this ass, okay?" Brice takes his cue and inches ever so slowly inside. Jaxon grimaces a couple of times, but Brice eventually buries himself all the way inside. Brice grunts carefully on his buddy's ass for a few minutes and Jaxon finally requests a position change. They spoon fuck, which gives us a really good view of Brice's meaty cock pumping Jaxon's tight hole. Then Brice fucks Jaxon on his back until Jaxon nuts on his belly and Brice follows and unloads all over Jaxon's nuts.
See more at Broke Straight Boys