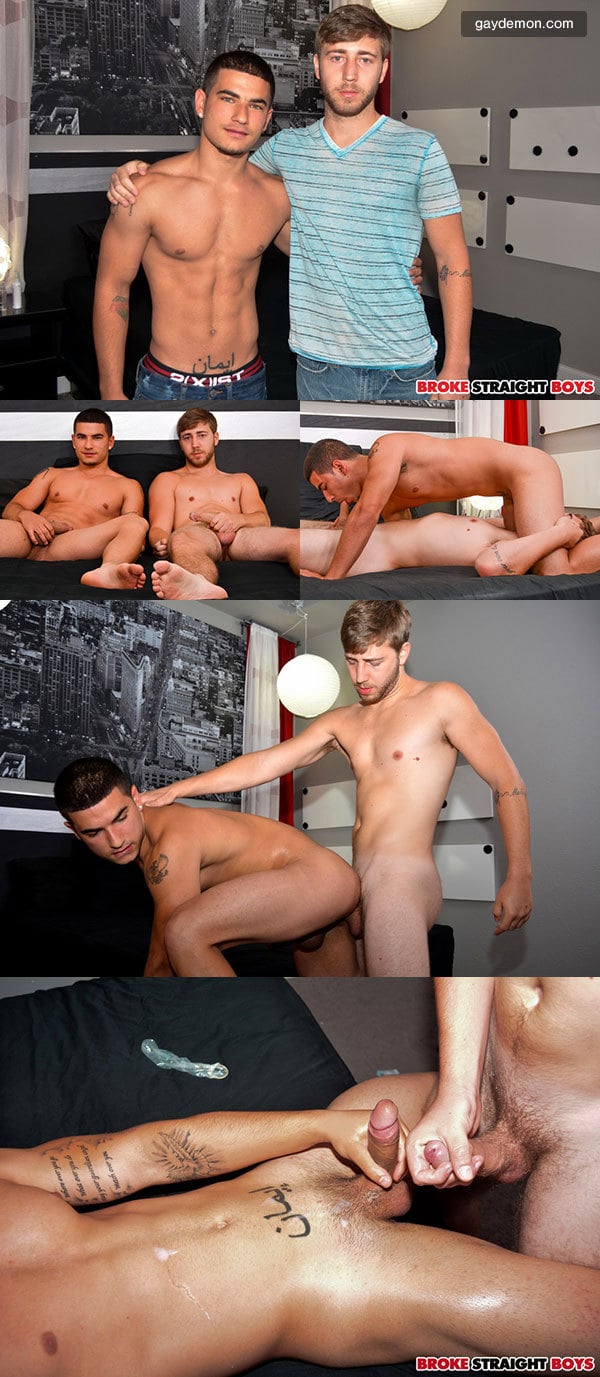 As Joe Spunk suggested a few weeks ago, Vadim Black's arse is so damned cute, he'll probably never get to top again - all the guys at Broke Straight Boys want to get their dicks in between those muscular round cheeks and fuck his tight little hole - which is exactly what Brandon Beal does today - lucky guy!
Things start off when Brandon catches up with Vadim in the middle of a workout - but naturally Brandon has another sort of workout in mind! Vadim catches his drift and they move into the bed room where they can get more comfortable. They get onto the bed and chat about each other's facial hair then Vadim gives that great big sexy grin of his and leans forward and plants a passionate kiss on Brandon's lips - and Brandon returns the kiss, tongue and all!
Next we catch up with the guys, both now totally naked and 69-ing each other on the bed, the mutual oral action gets both guys rock hard, and also, as Vadim is on top, the camera gets to pan around to his rear and we get a delightfully sexy view of his arsehole - no wonder he's such a popular bottom-boy! Grrrrr!
And that's what Brandon is thinking too, as he pushes Vadim back onto the bed and lifts is legs up onto his shoulders and slides his dick into that sexy hole. Then he lets Vadim's legs drop down and this opens his arsehole even wider, and his thrusting becomes harder and deeper, and all the while Vadim is lying back moaning with pleasure - begging for more, and all the while jacking on his own uncut cock!
Eventually tho, Vadim pulls Brandon's face down for a kiss, and this gets Brandon even hornier and he ramps up his thrusting until he reaches his own busting point - he pulls out and shoots his load all over Vadim's toned abs. Next Vadim strokes his own cock to orgasm, and then, amazingly, Brandon busts his nut ... a second time! That's a whole lot of cum in one very sexy scene - check it out!
See more at Broke Straight Boys